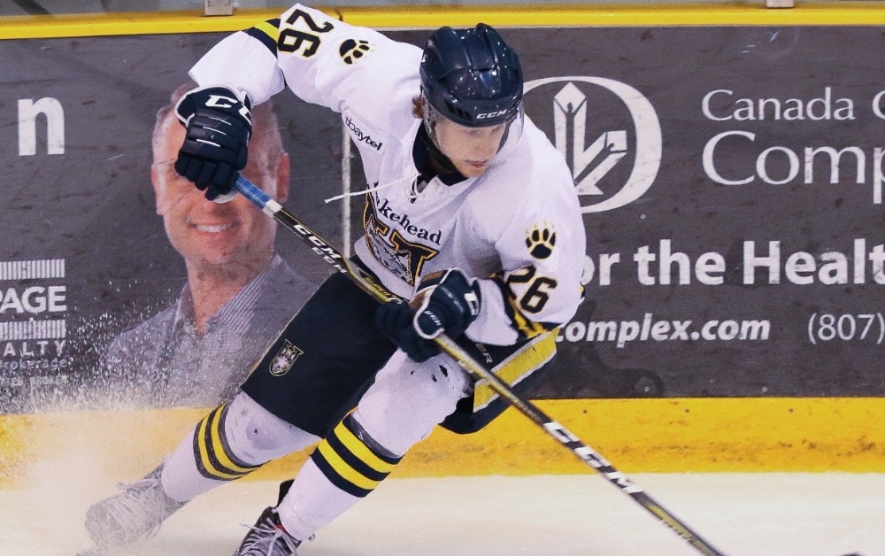 Sat Apr 07, 2018
Freshman Scott Gall (Morden, MB) and senior Dylan Butler (Thunder Bay, ON) both collected major awards as well as a team award at the Lakehead University Athletics Awards Ceremony held at the Law School Auditorium on Saturday.
Gall was named the Lakehead University Male Freshman Athlete of the Year, while Butler was honoured with the LU Argus Award, given to a senior athlete who displays outstanding skill and sportsmanship in his sport.
In the individual team awards for hockey, Gall was also named the top freshman, while Butler was chosen as the best offensive player.
Junior Dillon Donnelly (Dorval, QC) was selected as the team's best defensive player for the second year in a row, while senior Brennen Dubchak (Kenora, ON) got the nod for possessing the best work ethic.
Junior goaltenders Devin Green (Calgary, AB) and Nic Renyard (Victoria, BC) were named co-most valuable players for the squad.
Lakehead Athletics Major Awards
Male Freshman Athlete of the Year – Scott Gall
Argus Award – Dylan Butler
Individual Team Awards: Hockey
Freshman of the Year – Scott Gall
Best Offensive Player – Dylan Butler
Best Defensive Player – Dillon Donnelly
Best Work Ethic – Brennen Dubchak
Most Valuable Players – Devin Green & Nic Renyard