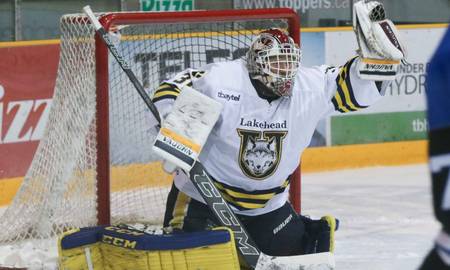 Sat Sep 30, 2017
Lakehead goalie Nic Renyard was flawless in his first game as a Thunderwolf, turning away all 22 shots he faced as the Wolves blanked the Ontario Tech Ridgebacks 3-0 in the season opener before 2,183 fans at the Fort William Gardens on Friday night.
The Junior NCAA transfer had to be sharp early on as the Ridgebacks came out strong, outshooting Lakehead 14-7 in the first period, but several key stops by Renyard kept the game scoreless after 20 minutes.
Freshman Daniel Del Paggio scored the first goal of the game at the midway point of the second stanza, firing the puck between the legs of UOIT netminder Brendan O'Neill after receiving a nice pass from Patrick Murphy. Billy Jenkins was credited with the other assist.
The Wolves began to control the play in the second, and outshot the Ridgebacks 14-6 in the period.
Lakehead's dominance continued in the third, as the Wolves fired 15 shots on O'Neill while UOIT only responded with two.
Dylan Butler scored from close range on a Lakehead power play after a nice set up by Brennen Dubchak and Matt Alexander, putting the Wolves up 2-0 at the 12:25 mark.
Dillon Donnelly's pass found a streaking Dubchak, who broke in alone on O'Neill and made no mistake to round out the scoring with just over three minutes remaining in the game.
On the night, Lakehead was 1-for-3 on the power play, while UOIT went 0-for-4.
Total shots on goal were 36-22 for the Wolves.
The Molson Three Stars of the game were:
1. Nic Renyard, Lakehead
2. Dylan Butler, Lakehead
3. Daniel Del Paggio, Lakehead
Both teams will square off again tomorrow night, with the opening face-off set for 7:00 p.m.