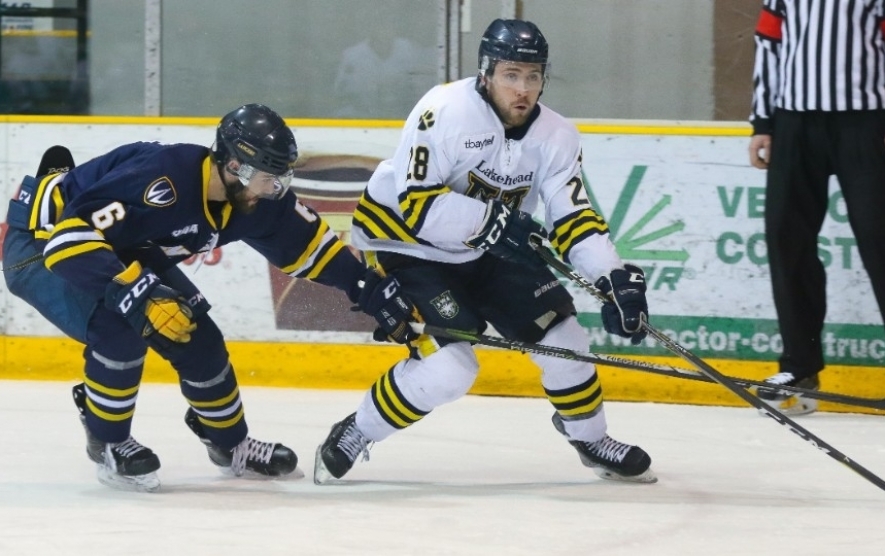 Fri Jan 11, 2019
The Lakehead Thunderwolves found themselves in a hole early on and went on to get buried 8-2 by the Windsor Lancers at the South Windsor Arena on Friday night.
The Lancers started quickly as Ryan Shaw, Ethan Skinner and Brennan Feasey each scored by the 1:43 mark of the first period to give Windsor a 3-0 lead and chase Wolves' goalie Devin Green from the net.
His replacement Nic Renyard didn't fare much better as he was beaten by Connor Logan before Skinner added another before the period was over.
Lakehead's Jordan King put one past Lancers' netminder Jonathan Reinhart to make the score 5-1 for Windsor after 20 minutes, despite the Wolves outshooting the Lancers 12-7 in the first.
Green was back in the Lakehead net to start the second period and looked composed the rest of the way.
Cooper Leitch batted home Sam Schutt's rebound at 10:51 of the middle frame to cut the lead to 5-2, but Kyle Hope tipped the puck past Green at 13:31 to put Windsor up 6-2 after two periods.
Feasey and Shaw added insult to injury with two more goals late in the third as the Lancers skated off with an 8-2 victory,
Despite having plenty of opportunities, neither team was able to score on the power play with Lakehead getting five attempts and Windsor six.
Total shots on goal in the game were 32-21 for the Thunderwolves.
The loss drops Lakehead's OUA record to 9-9-1 (15-10-1 overall) and allows Windsor to leapfrog them in the standings, leaving the Wolves one point behind the Lancers in sixth place in the West Division.
The Thunderwolves will look to return the favor when they square off against the Lancers again on Saturday night.