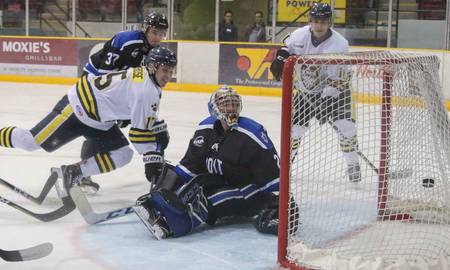 Sat Sep 30, 2017
The Lakehead Thunderwolves were edged 3-1 by the Ontario Tech Ridgebacks in front of 2353 noisy fans at the Fort William Gardens on Saturday night.
After a scoreless first period, Ontario Tech drew first blood on the power play early in the second when Ben Blasko knocked in a rebound after Wolves' goalie Devin Green made a nice initial pad save.
Lakehead freshman Josh Laframboise knotted the score with a power play marker of his own, flipping the puck past Ridgebacks' netminder Tyson Teichmann at the 11:33 mark.
Ontario Tech's Josh Carrick, the younger brother of former Thunderwolf Jake Carrick, replied 37 seconds later to put the Ridgebacks ahead 2-1 heading into the third.
In a reversal of the previous night, Ontario Tech seemed to grow stronger as the game went on, and Green was forced to make several big saves to keep Lakehead within striking distance.
The Wolves were unable to get the equalizer, however, and Jack Patterson scored an empty-netter with 53 seconds remaining to ice the game for Ontario Tech.
Shots on goal for the night were 38-25 in favor of the Ridgebacks.
Lakehead was 1-for-3 on the power play, while Ontario Tech went 1-for-5.
The Molson Three Stars of the game were:
1. Devin Green, Lakehead
2. Ben Blasko, Ontario Tech
3. Josh Laframboise, Lakehead
The Thunderwolves will remain home to host the Concordia Stingers for a pair of games next weekend.