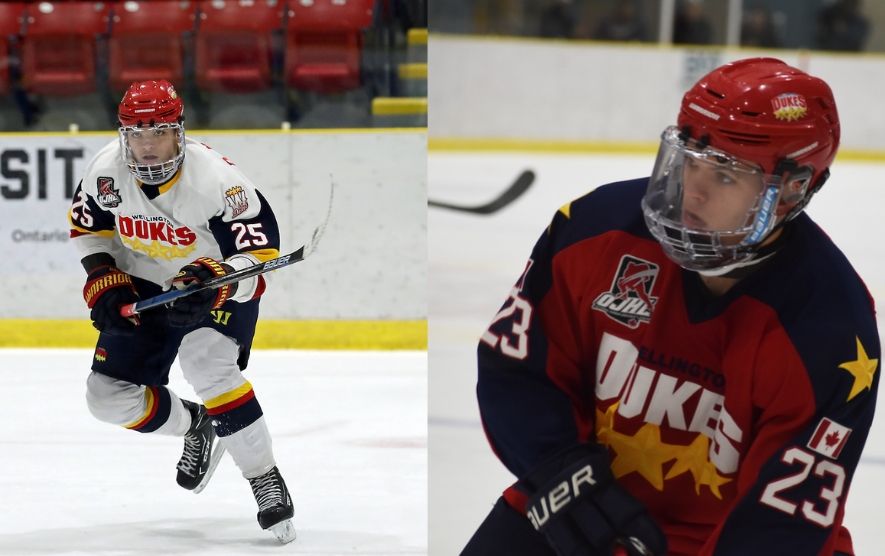 Tue Jul 07, 2020
Lakehead Thunderwolves Hockey announces the addition of Noah Massie and Dylan Massie from Saint-Lazare Quebec.
Noah and Dylan Massie, identical twins standing in at 6'1, both finished their junior career with the Wellington Dukes of the Ontario Junior Hockey League. They were two key players that helped the Wellington club to a 43-9-2 Regular season record, an OJHL best for the 2019-2020 campaign.
Coach Andrew Wilkins said he's "very excited to add both Dylan and Noah to our program. The Massie's are coming from a well-coached, strong club in Wellington that looked to be poised for a long playoff run."
Dylan had his best season playing on the top line in Wellington with 48 points and 100 penalty minutes in 54 games.
"I'm extremely excited to be attending Lakehead University to further my studies. Looking forward to being apart of the Lakehead Thunderwolves and competing for a championship" said Dylan.
"First thing that stood out was Dylan's skating ability. Dylan competes hard, uses his size to protect and hang onto pucks to maximize his play-making ability." said Wilkins. "Dylan is continuing to improve and we see a lot of potential in his game, a bit of a late bloomer - we are excited to add his style of game to our roster and we feel that his development path in our program will only continue to grow and get better."
Noah has played in 93 games in the QMJHL, making stops in Moncton and Charlottetown while finishing his last season in Wellington with his twin brother Dylan.
"I'm very excited to get this opportunity to attend Lakehead University to further my studies. Playing hockey at the highest level I can is everything for me and I believe Lakehead is the perfect spot. Can't wait to get started." said Noah.
"Noah is a well-rounded Defenseman who skates very well, has the ability to possess and move pucks well all over the ice. Noah was very steady for Wellington and was used in every scenario for a top team. Noah will be a good fit for our young D and compliment the way we want to build our group." said Wilkins
Head Coach Derek Smith of Wellington, winner of the 2020 OJHL Coach of the Year Award, speaks very highly of both Dylan and Noah. "Both Dylan and Noah are elite skaters" said Smith.
He goes on to say that "Dylan creates a lot of space out on the ice with his speed and size. A true 200 foot player that plays the game with great pace. Since we got him in 2018 he has added another dimension to our team with his ability to dominate in the offensive zone below the tops of the circles. Every day for Dylan was a workday at the rink, and his progression as a person and a player were huge over the year and a half in Wellington."
"Noah's skating ability and agility is second to none. He has a great offensive mind, and that shows with his ability to run the power play and his first touches on breakouts and transition. His intangibles are what set him apart from other players. His commitment to playing the game hard, blocking shots and sacrificing his body in his own end are a big reason why we were as successful as a team last season." said Smith.
"Both Dylan and Noah are great young men and tremendous players and we were fortunate to have both of them as Dukes and wish them nothing but success in the future!"