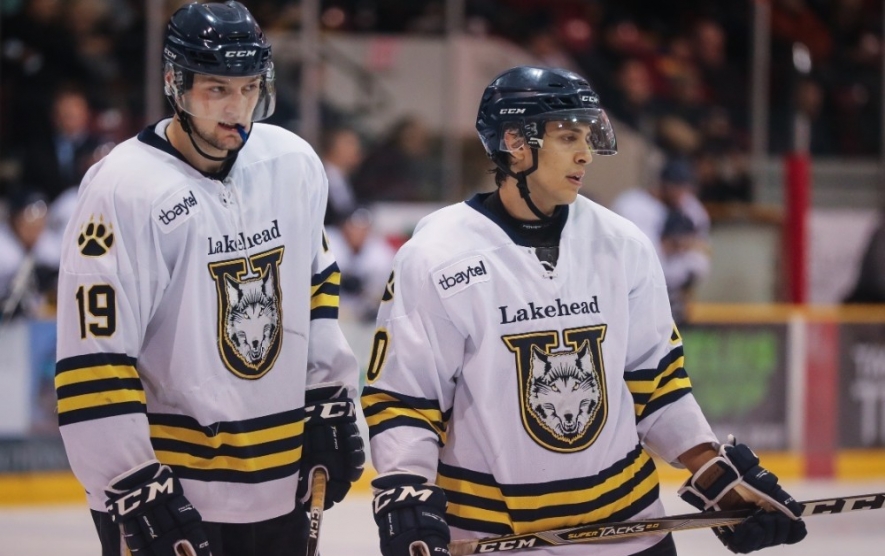 Sat Mar 21, 2020
Sophomore forward Tomas Soustal (Sternberk, Czech Republic) and his junior linemate Daniel Del Paggio (Thunder Bay, ON) shared two honors when the Lakehead University Athletics Awards were announced on Saturday.
The duo shared the team's Most Valuable Player award as well as being co-named the Best Offensive Player.
The pair also finished the season tied for the lead in team scoring with 35 points each.
In other individual awards for hockey, fifth-year senior Callum Fryer (Oakville, ON) was selected as the team's best defensive player for the second year in a row, but this season he shared the honor with freshman Troy Williams (Dryden, ON).
Kyle Auger (Thunder Bay, ON) was named the Freshman of the Year after an outstanding rookie campaign, and the award for Best Work Ethic was split between junior forwards Cooper Leitch (London, ON) and Brett Wolframe (Thunder Bay, ON).
Wolframe also received the Hank Akervall Memorial Award, given to a Lakehead University student-athlete who has demonstrated excellence in athletics while keeping a good academic standing combined with community involvement.
The ceremony was unable to be held on campus due to the public health and safety measures in place regarding the COVID-19 pandemic.
Individual Team Awards - Hockey
Most Valuable Player: Daniel Del Paggio, Tomas Soustal
Best Offensive Player: Tomas Soustal, Daniel Del Paggio
Freshman of the Year: Kyle Auger
Best Defensive Player: Callum Fryer, Troy Williams
Best Work Ethic: Brett Wolframe, Cooper Leitch
Lakehead Athletics Major Awards
Hank Akervall Award: Brett Wolframe