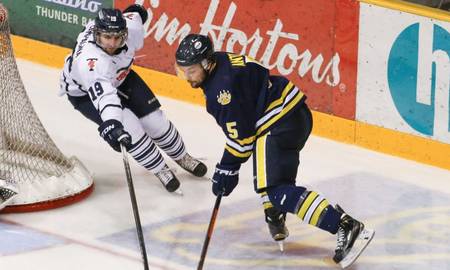 Tue Nov 14, 2017
The Lakehead Thunderwolves will take on the Toronto Varsity Blues this Friday and Saturday at the Fort William Gardens in the Wolves' last home games before Christmas, with the opening face-off set for 7:00 PM on both nights.
The Matchup
Lakehead: 4-6-1 OUA, 6-8-1 overall
Toronto: 4-6-0 OUA, 6-8-0 overall
The Thunderwolves are in a three-way tie with Brock and Windsor for sixth place in the West Division, one point ahead of ninth-place Toronto.
Recent Results
Lakehead is coming off a tough three-game road trip, taking close losses at Guelph (3-1), York (4-2) and Ryerson (5-2). Both Guelph and Ryerson padded its margins with empty-net goals.
Toronto split a pair of home games last weekend, losing 5-2 to Ryerson on Friday but rebounding with a 4-2 win over Western the following night.
Series History
The Thunderwolves hold the advantage in the all-time series versus Toronto with a record of 15-5-2 over the Varsity Blues.
Lakehead swept the Varsity Blues in two close games in Toronto last October, winning by scores of 6-5 (in overtime) and 3-2.
About the Varsity Blues
Toronto is led by rookie Head Coach Ryan Medel, replacing former bench-boss Darren Lowe who spent 22 years at the helm of the Varsity Blues program.
The Blues have 10 freshmen on the roster, one of which is forward Hunter Atchison, the team's leading point-getter so far this season. Upperclassmen Matt Campagna and Aidan Wallace are proven scoring threats up front, while defenceman Evan McEachern heads up the Toronto blue-liners.
Freshman Frederic Foulem has handled the bulk of the goaltending duties for Toronto, and is backed up by two experienced tenders in Andrew Hunt and Michael Nishi.
Teddy Bear Toss Saturday
Saturday night is the annual teddy bear toss game, where fans can bring a new plush toy and toss it on the ice when the Thunderwolves score their first goal. All teddy bears collected will be donated to several local children's charities.