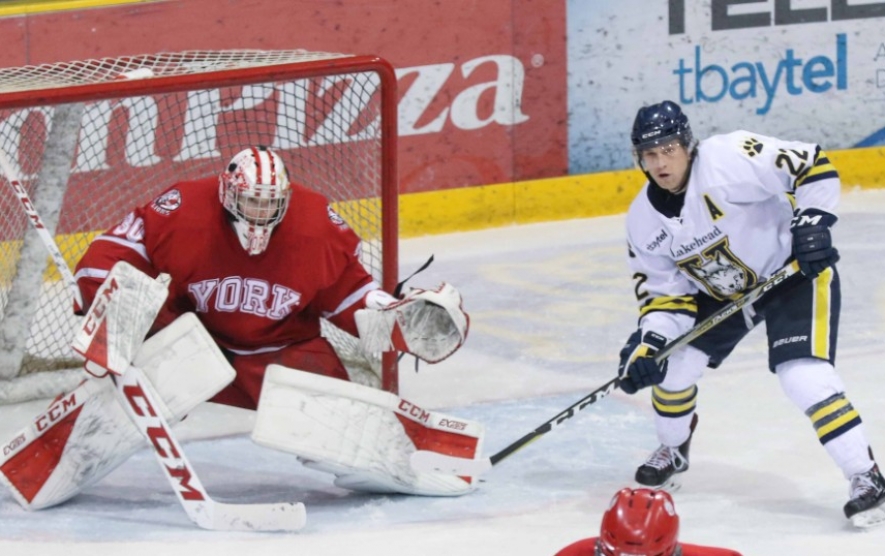 Mon Feb 12, 2018
For the second year in a row, the Lakehead Thunderwolves will take on the York Lions in the first round of the playoffs, with game #1 of the best-of-three OUA West Division quarter-finals set for 7:00 pm on Thursday night at the Fort William Gardens. The series will then shift to York for game #2 on Saturday evening, and if necessary, game #3 will go Sunday night at the Canlan Ice Sports Arena.
The Records
Lakehead: 12-11-5 OUA (7th place West Division)
York: 17-10-1 OUA (2nd place West Division)
Recent Results
Lakehead wound up the regular season at home last weekend against two different opponents. After winning a 5-4 overtime thriller over Waterloo on Friday night, the Wolves fell 4-1 to Laurier in the finale.
York also split its last two games of the season, losing 6-2 at Guelph on Thursday night before rebounding with a 6-1 victory at home over Toronto last Saturday.
Series History
The Thunderwolves have the advantage in the all-time series with York, posting a record of 34-23 versus the Lions.
This season, York closed that gap by defeating the Wolves four times. Lakehead played at York twice earlier this season and lost two close contests; a 4-2 decision on November 11 and a 5-4 overtime loss on January 12. Then on January 26-27 in Thunder Bay, York edged Lakehead 5-4 in another overtime game before blanking the Wolves 4-0 the following evening.
About the Lions
The Lions are the defending OUA Queen's Cup champions, quite a turnaround for a team that finished dead last in the ten-team OUA West Division just two seasons prior to that.
Forwards Trevor Petersen, Reid Jackman and Colton Vannucci are the Lions' top point-getters, but defencemen Derek Sheppard and Shayne Rover are scoring threats from the back end as well.
Like Lakehead has with Devin Green and Nic Renyard, York has a solid goaltending tandem in Mack Shields and Alex Fotinos.