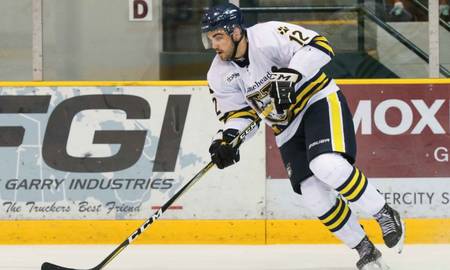 Sun Nov 12, 2017
The Lakehead Thunderwolves were defeated 5-2 by the Ryerson Rams at the Mattamy Athletic Centre in Toronto on Sunday afternoon.
Ryerson opened the scoring 4:27 into a wide-open first period with a lucky break when Ryan Leth's cross-ice pass deflected off Lakehead defenceman Dillon Donnelly and behind goaltender Nic Renyard.
Scott Gall got the Wolves on the board with a great shot from a sharp angle that snuck past Rams' goalie Taylor Dupuis at 12:19, with Dylan Butler and Brennen Dubchak assisting.
Leth replied for the Rams just over a minute later and then completed a natural hat-trick at 18:49 when he broke in alone on Renyard and slipped the puck between his legs with a backhand deke.
Lakehead tightened things up defensively in the second and scored the only goal of the period when Cooper Leitch banged home Jonathon Masters' rebound at the 12:03 mark, narrowing the Rams lead to 3-2.
Ryerson took advantage of a Lakehead turnover at 2:59 of the third and extended its lead to 4-2 when Matt Mistele fired a rocket from the slot that beat Renyard high on the blocker side.
Lakehead pulled Renyard for an extra attacker with a little over three minutes showing on the clock, but Ryerson squashed the Wolves' rally when Leth potted his fourth goal of the game into an empty net with 2:19 remaining.
The Thunderwolves were 0-for-2 on the power play while the Rams went 0-for-1 in a cleanly-played match.
The final shots on goal tally was 42-31 for the Rams.
The Thunderwolves will return home for a pair of games against the Toronto Varsity Blues at the Fort William Gardens next weekend.