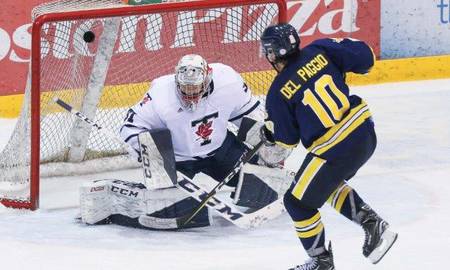 Fri Nov 17, 2017
It was another wild finish with Daniel Del Paggio potting his fifth game-winning goal of the season as the Lakehead Thunderwolves edged the Toronto Varsity Blues 3-2 in overtime before a crowd of 1,884 at the Fort William Gardens on Friday night.
Lakehead went up early when Scott Gall finished off a scrum in front of the Toronto net just 1:22 in the contest, with Dylan Butler and Jake Ringuette getting the assists.
Scott Kirton got the Varsity Blues on the scoresheet when he beat Wolves' goalie Devin Green at the 7:52 mark.
Billy Jenkins put Lakehead up 2-1 when he fired home Austin McDonald's rebound off the end boards into the back of the net at 11:21, with Tyler Anton getting the other helper.
Aidan Wallace tipped the puck behind Green to knot the score at 2-2 with less than three minutes remaining in the first, and at that point it looked like the game was going to be a high-scoring affair.
That turned out not to be the case, as both teams were held scoreless for the rest of regulation time. Del Paggio missed a breakaway chance in the middle frame, and Devin Green came up with a big save on Luca Leone late in the third to force the game into extra time.
After some back-and-forth in the overtime session, Del Paggio found himself alone in front of the Toronto goal after some great work by Patrick Murphy and Billy Jenkins, and he made no mistake going top shelf at 2:58 to seal the deal for Lakehead.
The final tally for shots on goal was 34 per side.
Both teams were held scoreless on the power play in a cleanly-played game, with Lakehead having only three attempts with the man-advantage and Toronto just one.
The win snaps a three-game losing skid and improves the Wolves' OUA record to 5-6-1 (7-8-1 overall), good for a sixth-place tie in the West Division.
The Molson Three Stars of the Game were:
1. Daniel Del Paggio, Lakehead
2. Billy Jenkins, Lakehead
3. Patrick Murphy, Lakehead
The Wolves and Blues will face-off again tomorrow night beginning at 7:00 PM.