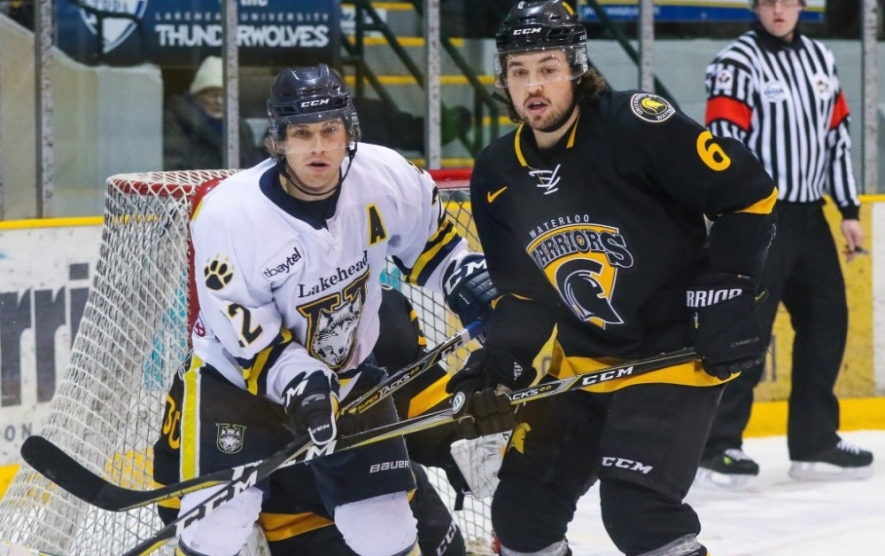 Thu Jan 03, 2019
The Lakehead Thunderwolves will battle the Waterloo Warriors this weekend to start the winter portion of the OUA regular season, with the opening face-off set for 7:00 p.m. at the Fort William Gardens on both Friday and Saturday nights.
The Matchup
Lakehead: 14-8-1 overall, 8-7-1 OUA (5th place West Division)
Waterloo: 7-12-4 overall, 5-9-4 OUA (9th place West Division)
Recent Results
Lakehead is coming off a series sweep over Laurentian in the Christmas Challenge, having defeated the Voyageurs 4-1 and 3-2 at home last weekend.
Waterloo hasn't played in over a month, but won its last two games of the fall schedule with a 6-5 victory at home over York and a 1-0 shutout win at Toronto.
Series History
Lakehead leads the all-time series with a record of 37-24-2 versus Waterloo.
When the two teams last met on November 17 in Waterloo, the Warriors edged the Thunderwolves 3-2.
About the Warriors
Offensively, Waterloo is led by forwards Cam Nicoll and Nick Chyzowski, while Andrew Cordssen-David and Mike Moffat are the Warriors' top defencemen.
Netminders Julian Sime and Trevor Martin have split time in the Waterloo goal, but Sime has posted the better numbers so far this season.