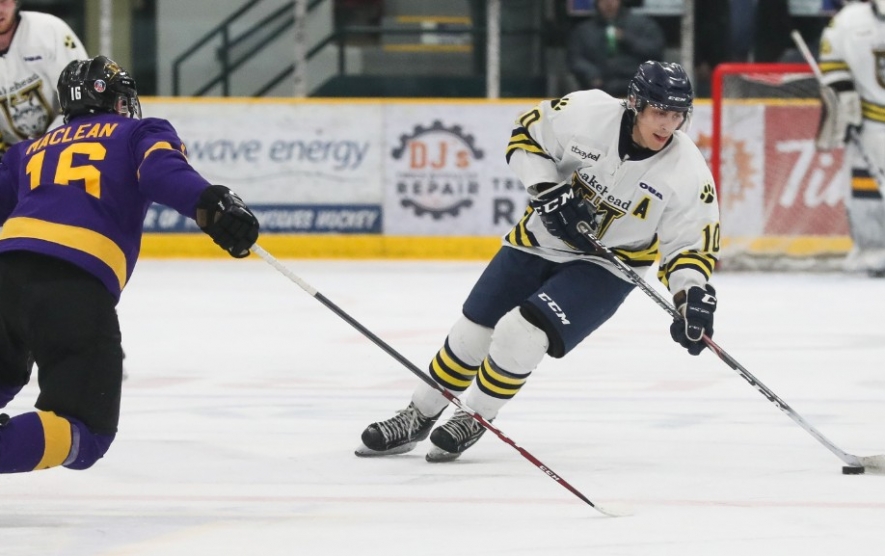 Fri Nov 22, 2019
The Lakehead Thunderwolves started their weekend off with a 3-2 win over the Laurier Golden Hawks and a whole lot of teddy bears.
The Hawks struck first, thanks to a goal from Laurier defenceman Kyle Jenkins halfway through the first period.
Late in the first period the Thunderwolves were working on their third power-play opportunity of the game when Daniel Del Paggio scored to knot the score and put the game on pause as teddy bears were tossed onto the ice and collected by the Thunderwolves players and stafff to be donated to several local charities.
Less than five minutes into the second period, the Thunderwolves found themselves back on the power play and an opportunity to take their first lead of the night. Del Paggio made sure his team capitalized with his second marker of the night. Tomas Soustal and Jordan Larson each earned their second assist of the night on the lone second-period goal.
The third period saw Del Paggio complete his hat trick and score what would become the game-winning goal.
The Hawks managed to knock one more puck past Thunderwolves' freshman goaltender Brock Aiken but were unsuccessful with their comeback attempt as the Thunderwovles walked away with the win.
The Wolves and the Hawks will meet again tomorrow night at the Fort William Gardens.