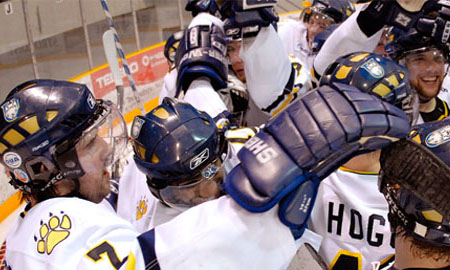 Wed Mar 12, 2003
The University Cup is the ultimate goal for 32 men's hockey teams from three university conferences across Canada. The University Cup is awarded annually to the Canadian Interuniversity Sports (CIS) Hockey Champions. The trophy was first presented by Queen's University of Kingston and the Royal Military College of Canada in 1962. The Trophy was presented in recognition of the contribution made to the game of hockey by outstanding university players.
For the next two seasons, the Championships will be hosted by the University of New Brunswick in Fredericton. The championships will be staged at the 4,000 seat UNB Aitken University Centre from March 20-23, 2003 this year. Check out the CIS University Cup official website by clicking here.
The round robin format championships will consist of 6 teams. The 6 qualifiers are the OUA Conference champions (UQTR) and runner-up (York), plus this year's rotating wild card berth (Lakehead), the Canada West Conference champion (Alberta), the Atlantic Universities Sports Association (AUS) runner up (StFX), and the host team and AUS champions University of New Brunswick (UNB).
The teams are put in two pools based upon national rankings based upon regular season and playoff results. Each team plays two games in the round-robin section, once against the other two teams in its pool. Thewinners from each pool, teams with the best records,then play for bragging rights to the title of Canadian men's university hockey champions, and holders of the University Cup on Mar. 23rd at 4:15 p.m. There is also a third place game for the two teams with second best records in each pool preceding the Championship Final.
The University of Toronto Varsity Blues and the University of Alberta Golden Bears are tied for the most national titles with 10 each. Last year, the University of Western Ontario Mustangs claimed the Cup by defeating the Queen's Cup Champions Les Patriotes of the Universite du Quebec Trois-Rivieres 4-3 in a triple overtime victory in Kitchener, Ontario.
The Teams:
1) No. 1 ranked Canada West Champion Alberta Golden Bears are in the hunt for their eleventh CIS championship. They qualified by defeating Saskatchewan two games to one.
2) No. 2 ranked UQTR Patriotes qualified by winning their sixth Queen's Cup in a row by defeating York 7-4 in the Final.
3) No. 3 ranked University of New Brunswick Varsity Reds are the host team and also AUS Champions. They defeated StFX in the AUS Finals three games to one.
4) No. 4 ranked York qualified as OUA Queen's Cup Silver Medalist.
5) No. 5 Lakehead qualified by defeating Toronto in OUA Bronze Medal game.
6) No. 6 StFX qualified as AUS runner-up because AUS Champion UNB was already host.