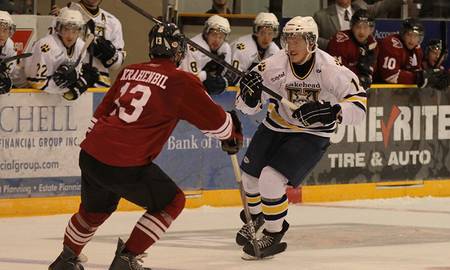 Sat Sep 22, 2012
The Lakehead Thunderwolves beat the Ottawa Gee-Gees 6-2 in a feisty game on Saturday night at the Fort William Gardens in Thunder Bay, ON in front of a crowd of 2,505.
It didnt take long for Lakehead to get on the board, as freshman Luke Judson potted his first goal in a Thunderwolves uniform on a sneaky wrist shot that got past Ottawa goalie Robin Billingham at 1:31 of the first. Matt Caria and Kalvin Sagert were credited with the assists.
Ottawa tied things up at 12:07 of the period, on their third power-play of the opening frame when Jean-Benard Voyer beat Wolves goalie Jeff Bosch.
With less than a minute left in the period, Keith Grondin put Lakehead back in the lead 2-1 on a nice pass from Thomas Frazee. The other assist went to Mike Quesnele.
It was a heated second period that saw a lot of rough stuff after the whistle, and a lot of hard hits on both sides.
Ottawas Mathieu Oullette evened things up on a nine-minute power play after Thunderwovles defenceman James DeLory was given a game misconduct for fighting, instigating, and roughing.
Matt Caria narrowly missed on a shorthanded breakaway that would have put the Wolves back in front.
Just like in the opening period, Lakehead got on the board early in the third, when Judson scored his second goal of the game on a beautiful feed from Mike Quesnele, giving the Wolves the 3-2 lead. The other assist went to Mike Hammond.
Carson Dubchak scored his first in a Lakehead uniform at 11:38, and it was a beauty as he pulled it around Billingham and stuffed it home. Assists went to Jason Grecica and Victor Anilane.
Judson completed his hat-trick on a sweet give-and-go with Matt Caria at 13:01 of the period, increasing Lakeheads lead to 5-2.
Freshman Jay Gilbert added a late one as he pinched in a ripped a wrist shot past Billingham. Assists went to Anilane and Dubchak.
Jeff Bosch was strong in between the pipes all night, making several key stops throughout the game to keep his team in front.
The Molson 3 Stars of the game were:
1.Luke Judson, Lakehead
2.Matt Caria, Lakehead
3.Jeff Bosch, Lakehead
Lakehead is back at home next weekend against the Brock Badgers at the Fort William Gardens.