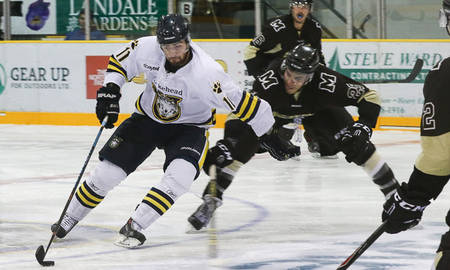 Fri Sep 25, 2015
The Lakehead Thunderwolves looked solid in a 4-3 season-opening win over the Manitoba Bisons in front of 2371 fans at the Fort William Gardens on Friday night.
The game began with both teams looking a little tight and showing some signs of nervous energy early on, but the physical play picked up soon after with a big hit by Lakeheads freshman defenceman Linden Springer setting the tone.
The Wolves had several good scoring chances in the first, particularly near end of period when Manitoba goalie Dayson Sydora was caught far out of his net, but Lakehead was unable to capitalize.
Early in the second period, freshman Sam Schutt banged one home from the doorstep to get the Wolves on the board, with Luke Maw and Nathan Cull picking up the assists.
Schutt added another at 2:55 after receiving a beautiful pass from Springer while Lakehead had a 5-on-3 power play advantage, quickly giving the Wolves a 2-0 lead.
Some big saves by freshman goaltender Devin Green kept the Bisons at bay until Manitoba finally converted on 5-on-3 power play of their own on a tip in by Shaq Merasty to narrow the lead to 2-1 at 10:48 of the second.
Lakehead extended its lead to 3-1 with another power play goal early in the third when Springer ripped a shot past Bisons goalie Justin Paulic, who had taken over in the Manitoba net at the start of the period.
Green made some tremendous saves for Lakehead in the first half of the period but Merastybested him onwith seeing-eye shot to the top corner at 11:33.
Cody Alcock replied for the Wolves just over two minutes later when he pick-pocketed a Manitoba defenceman and beat Paulic up high to restore Lakeheads two-goal cushion.
Manitoba's Brett Stovin scored on a harmless looking wrist shot with just under three minutes to play, closing the gap to 4-3. But that was as close as the Bisons would get as the Wolves held on for the win.
The Molson Three Stars of the game were:
1.Linden Springer, Lakehead
2.Sam Schutt, Lakehead
3.Shaq Merasty, Manitoba
The two teams will hit the ice again for the rematch on Saturday night at the Fort William Gardens, with the opening face-off set for 7:00.