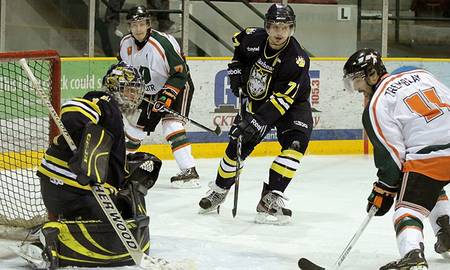 Sat Nov 10, 2012
The Lakehead Thunderwolves beat the UQTR Patriotes 3-2 on Saturday night at the Fort William Gardens in Thunder Bay, ON before a crowd of 2,783.
The game was a chippy affair, and became more so as the night wore on.
The action was end-to-end in the opening frame with both teams getting plenty of chances early.
Shortly after killing off a 5-on-3 power-play, Ryan Magill tipped a Chris de la Lande point shot that found its way through traffic. Jake Carrick had the other assist.

Lakehead kept applying pressure as Thomas Frazee ripped a shot right through UQTR goalie Marc Gelinas that squeaked through his pads and just wide of the goal.
UQTR tied things up at 12:02 of the first when a Patriotes defenseman shot the puck through traffic that was tipped by forward Alex Poirier.
Both teams continued their strong play in the second period. UQTR pulled ahead 2-1, on the power-play at 8:42 of the middle frame on a seeing-eye shot from Maxime Robichaud that was tipped by Felix Petit and then went up and over Wolves goalie Alex Dupuis shoulder.
Mike Hammond added another highlight reel goal to his resume with 28 seconds left in the period; toe-dragging the puck through a Patriotes defenseman and placing a perfect shot over Gelinas shoulder; sending both teams to their dressing rooms evened up at two.
The first big scrum of the night began just as the second period buzzer sounded, and it took a few extra minutes to get the teams off the ice.
Lakeheadmoved ahead 3-2 at 12:20 of the third period when Adam Sergerie slid a nice pass onto the stick of Keith Grondin who made no mistake in finding the back of the net. The other assist went to Brennan Menard.
UQTR pulled the goalie for an extra attacker with over a minute to play, but the Patriotes were unable to get anything past Dupuis.
Similar to the end of the second period, an even bigger melee broke out as time expired when some frustrated Patriotes lost their tempers, and weresubsequentlybooed off the ice after the officials settled things down.
The Molson 3 Stars of the game were:
1.Alex Dupuis, Lakehead
2.Adam Sergerie, Lakehead
3.Keith Grondin, Lakehead
The win improves Lakeheads OUA record to 7-3-2 (9-5-2 overall) and leaves the Thunderwolves in a first place tie with the Windsor Lancers for the West Division lead.
The Wolves hit the road next weekend for a pair of games at Brock and Laurier, before returning home the following weekend for a showdown with the Windsor Lancers.