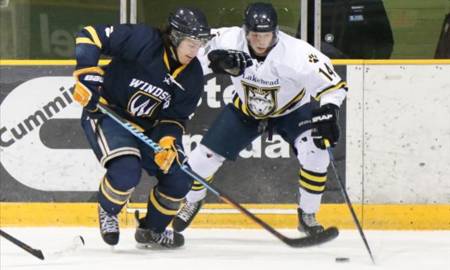 Fri Nov 20, 2015
The Lakehead Thunderwolves were blanked 2-0 by the Lancers at the South Windsor Arena on Friday night.
The contest was a battle of freshman goaltenders as Windsors Blake Richard recorded the shutout and Lakeheads Devin Green also played well.
The game remained scoreless until late in the second period when Dylan Seguin got the Lancers on the board with just 2:39 remaining on the clock.
Dylan Denommes power play marker at 4:28 of the third extended Windsors lead to two goals.
Lakehead pulled Green for an extra attacker with a little over two minutes remaining in the game, but the Wolves were unable to put anything past Richard and the Lancers held on for the win.
For the night, Lakehead was 0-for-5 on the power play while Windsor went 1-for-6.
Shots on goal in the game were 30-28 for the Lancers.
The loss drops the Wolves OUA record to 0-10-1 and to 2-12-2 overall.
Lakehead will look to get into the win column when the two teams square off again tomorrow night.