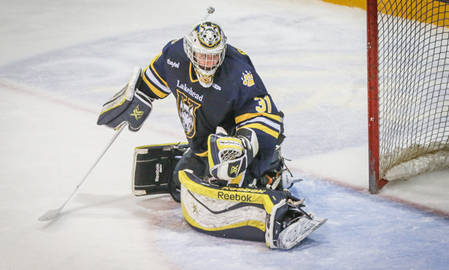 Sat Jan 23, 2016
The Lakehead Thunderwolves were downed 3-1by the York Lions at the Canlan Ice Sports Arena in Toronto on Saturday night.
The Lions opened the scoring when Greg Milner beat Lakehead goaltender Jeff Bosch with 2:41 left in the first for the only goal of the period.
Shayne Rover extended Yorks lead on a goal by Tyler Mort 5:36 into the second, but Matt Alexander dented the twine behind Lions netminder Chris Perugini at the 9:01 mark to cut the gap to 2-1 heading into the third.
The Wolves and Lions traded several good scoring chances in the final frame, but Perugini and Bosch were equal to the task until Yorks Reid Jackman converted on a two-on-one with 30 seconds left on the clock to ice the game.
Shots on goal in the contest were 37-34 for the Lions.
Lakehead was 0-for-4 on the power play for the night, while York went 0-for-2.
The loss drops the Thunderwolves OUA record to 5-13-4 (9-15-5 overall) and leaves them six points shy of a playoff spot with six games remaining in the regular season.
The Wolves will return home to host the Waterloo Warriors for a pair of games at the Fort William Gardens next weekend.