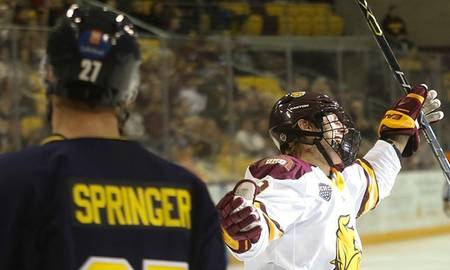 Sun Oct 04, 2015
The Lakehead Thunderwolves scored first, but gave up six unanswered goals in a 6-1 loss to the UMD Bulldogs in front of 5252 fans at Amsoil Arena in Duluth, Minnesota on Sunday night.
The Thunderwolves cashed in on their first shot attempt of the night just 3:39 into game when Carson Dubchak one-timed a power play shot from the slot and Lakehead held a 1-0 lead after the first period.
After that, it was all Bulldogs. Tony Cameranesi and Nick McCormack scored 45 seconds apart early in the second period to put UMD up for good. Then, at the midway point of that same period, Austyn Young, Thunder Bay native Billy Exell and Alex Iafallo added goals in a span of 63 seconds to put the game away. Blake Young capped off the scoring on a wrister from the left face-off circle at the 14:54 mark.
All three netminders for each team saw game action, and shots on goalfor the night were50-11 in favor of the Bulldogs.
Lakehead will have next weekend off before travelling to Three Rivers, Quebec to take on the UQTR Patriotes to begin the OUA regular season on October 16-17.