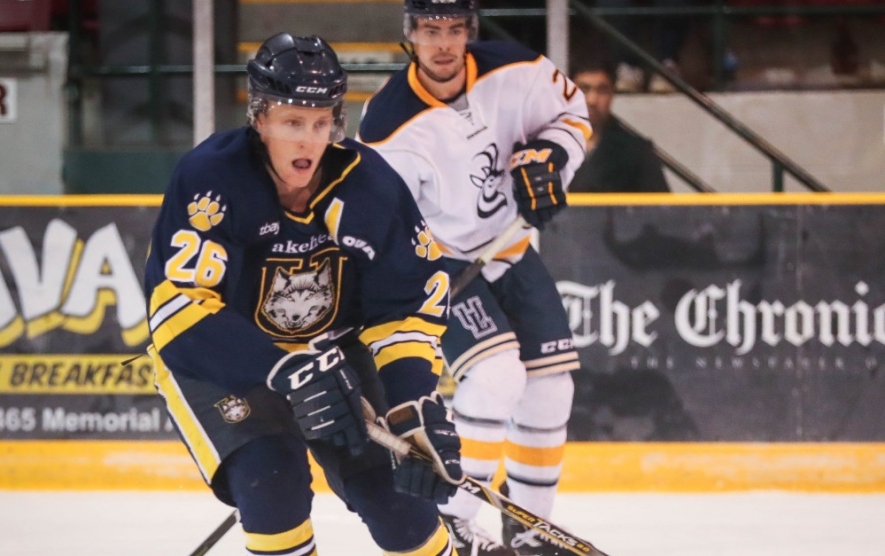 Fri Sep 21, 2018
The Lakehead Thunderwolves opened the season with a flurry of offense in the early going and held on to defeat the Lethbridge Pronghorns 5-4 before a crowd of 2,110 at the Fort William Gardens on Friday night.
Brennen Dubchak lit the fire just 1:22 into the game when he broke in alone on Pronghorns' netminder Garrett Hughson and beat him on the glove side, with Joe Leonidas getting the assist.
The Pronghorns knotted the score at 1-1 at the 5:48 mark after crashing into Wolves' goalie Nic Renyard. After some discussion, the referees ruled it was not goaltender interference and Jordan Roy was credited with the score.
Scott Gall put Lakehead back up 2-1 on the power play at 7:17, with Patrick Murphy and Daniel Del Paggio picking up the helpers.
The Thunderwolves added another when Dexter Kuczek fired a rocket from the face-off circle at 9:56 after a nice set up by Tomas Soustal and Josh Laframboise.
Lakehead completely dominated the first period, outshooting Lethbridge 24-3.
Soustal put the Wolves up 4-1 just 2:42 into the middle frame when he finished off a breakaway with a nifty backhanded deke that went top shelf. Dillon Donnelly put Soustal in the position to score, with Leonidas picking up another helper.
Connor Sanvido replied for Lethbridge while the Pronghorns held the man-advantage at 7:44.
Sam Schutt scored a short-hander when he flew down the left wing and beat Hughson high on the blocker side midway through the period to give the Wolves a 5-2 lead heading into the third. Caleb Boman was credited with the assist.
The Wolves' seemingly comfortable lead was jeopardized by penalty trouble in the final stanza, with Lethbridge getting two power play goals from Ryan Chynoweth and Michael Grant just three minutes apart before the period was half over. But Lakehead tightened up defensively the rest of the way and held on to take the win.
Total shots on goal in the game were 51-31 in favor of the Thunderwolves.
The Molson Three Stars of the game were:
Tomas Soustal, Lakehead
Brennen Dubchak, Lakehead
Sam Schutt, Lakehead
The Wolves and Pronghorns will square off again tomorrow night, with the opening face-off set for 7:00 pm.