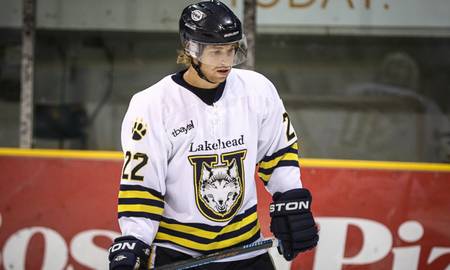 Sat Dec 05, 2015
The Lakehead Thunderwolves were edged 3-2 by the West Division-leading York Lions in double overtime at the Canlan Ice Sports Centre in North York on Saturday night.
Lakehead drew first blood late in the opening period when Brennen Dubchak beat Lions goalie Chris Perugini from in close with only 48 seconds left on the clock. E.J. Faust and Carson Dubchak were credited with the assists.
Usually, a goal late in a period gives a team momentum, but York came out strong in the second and took it back with two quick goals by Trevor Peterson and Kyle Campbell in the first 2:26 of the middle frame.
The Wolves responded when Tyler Kunz blasted the puck past Perugini at the 5:16 mark after Lakehead caught the Lions in a bad line change, with Dylan Butler and Cody Alcock picking up the helpers.
Despite a third period with plenty of end-to-end action and some good scoring opportunities for both sides, Devin Green stood tall in the Wolves net as did Perugini for York, and the game was headed into overtime.
The first five-minutes of extra time with four skaters aside was played close to the vest, and neither squad was able to generate a good scoring opportunity.
The game opened up considerably in the second overtime with three-on-three play, but it looked like a shootout was imminent until Yorks Reid Jackman knocked home a rebound with only one second remaining.
The Thundewolves went 0-for-6 on the power play while York went 0-for-3.
Shots on goal in the game were 43-38 for the Lions.
Lakehead picked up a point for the O.T. loss and ended the fall semester with a record of 2-10-4 in OUA play and 4-12-5 overall.
The Wolves next games will be against Guelph when they host the Gryphons in the annual Christmas Challenge at the Fort William Gardens on December 29th and 30th.