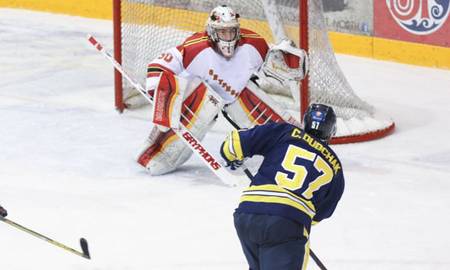 Fri Feb 05, 2016
The Lakehead Thunderwolves were downed 6-2 by the Guelph Gryphons at the Gryphon Centre in Guelph on Friday night.
Stephen Hiff gave Guelph an early lead when he beat Lakehead netminder Devin Green just 1:21 into the game, but Carson Dubchak got the Wolves on the board by firing the puck past Gryphons goalie Andrew DAgostini after being set up by Sam Schutt at the 12:07 mark.
Guelph went ahead 2-1 on a Nicholas Trecapelli power play goal with 2:24 left in the opening period.
Shots on goal in the first were 13-7 for Guelph.
The Gryphons scored three unanswered goals in the middle frame, the first coming at 2:21 when Scott Simmondsslipped past Wolves defenceman Tyler Kunz and slid the puck behind Green.
Robert Lepine rifled the puck high on Greens blocker side at the 5:51 mark and struck again less than three minutes later after a defensive lapse by Lakehead allowed him to walk right in and give Guelph a 5-1 lead before the period was half over.
After a timeout was called to settle the team down, the Wolves steadied themselves and outshot the Gryphons 11-8 in the period.
Carson Dubchaknotched his second goal of the night when he scored from the side of the net aftergetting a fortuitous bounce off the back boards midway through the third period. Brennen Dubchak and Matt Alexander were credited with the assists.
Guelphs Andres Kopstals rounded out the scoring with quick shot from the slot with 3:35 remaining in the game.
Shots on goal in the third were 11-8 for the Wolves, and for thenight both teams recorded a total of 29 shots each.
The loss drops Lakeheads OUA record to 6-15-4 (10-17-5 overall) and excludes the Thunderwolves from the playoffs for the first time in teams 15-year history.
Lakehead will look to exact a measure of revenge when the two teams square off again on Saturday night.