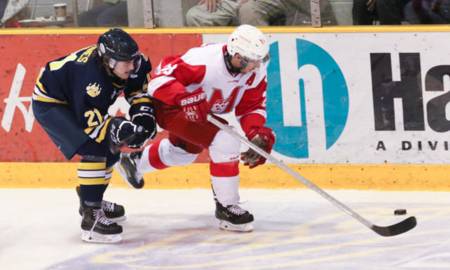 Sat Oct 31, 2015
The Lakehead Thunderwolves fell 8-3 to the McGill Redmen at McConnell Arena in Montreal on Saturday night.
Mathieu Pompei opened the scoring for McGill when he beat Lakehead netminder Jeff Bosch 8:48 into the game, and the Redmen followed up with power play goals by David Rose and Dominic Talbot-Tassi to give McGill a 3-0 lead after the first period.
Alexandre Chenevert put the Redmen up 4-0 at 3:27 of the second and McGill seemed to be on cruise control, but Lakeheads Cody Alcock scored two goals just 23 seconds apart a few minutes later and the Wolves were suddenly back in the game at 4-2.
Kelin Ainsworth added a short-hander that eluded McGill goalie Jacob Gervais-Chouinard at 8:29 of the middle frame to narrow the lead to 4-3 and shift the momentum to Lakeheads side heading into the final 20 minutes.
Two more goals by Pompei early in the third turned the tide back towards the Redmen, giving them a 6-3 lead before the period was two minutes old.
McGill added a pair of power playmarkers by Samuel Labrecque and Frederic Gamelin late in the game to round out the scoring.
Shots on goal for the night were 43-24 for the Redmen.
The loss drops Lakeheads record to 0-6-0 in the OUA and to 2-8-1 overall.
The Wolves will look the end their losing skid when they return home to host the Nipissing Lakers for a pair of games at the Fort William Gardens next weekend.