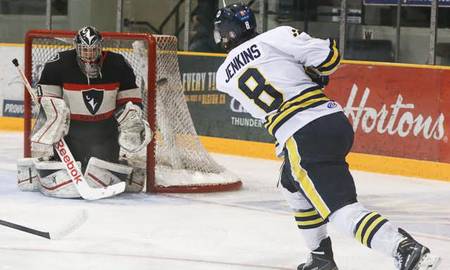 Sat Jan 09, 2016
The Lakehead Thunderwolves three-game winning streak ended with an 8-2 loss to the Carleton Ravens in front of 2009 fans at the Fort William Gardens on Saturday night.
Lakehead got on the board first when Billy Jenkins scored on Ravens netminder Francis Dupuis 5:51 into the game, with Luke Maw and Garick Gray getting the assists.
Carleton responded with goals by Sean Bamford, Clark Veenstra and Corey Durocher to take a 3-1 lead heading into the second.
Already down two goals, it was early in the middle frame when things really started to unravel for the Wolves. Penalties cost Lakehead dearly as the Ravens displayed a lethal power play by adding two more tallies from Jeremie Fraser and Alexandre Boivin before the period was six minutes old.
Jenkins notched his second of the night while the Wolves held the man-advantage to narrow the gap to 5-2 just past the midway point of the game. Kelin Ainsworth and Carson Dubchak picked up the helpers.
Carleton continued to pour it on in the third, adding three more goals by Joey West, Brett Welychka and Curtis Meighan to round out the scoring.
Wolves goalie Devin Green saw plenty of rubber on the night as Carleton outshot Lakehead 45-23.
The Ravens went 3-for-10 on the power play, while the Thunderwolves were 1-for-6.
The Molson Three Stars of the game were:
1.Clark Veenstra, Carleton
2.Billy Jenkins, Lakehead
3.Ryan Van Stralen, Carleton
Lakeheads home stand will continue through next weekend when the Ryerson Rams visit the Gardens in a key division match-up.