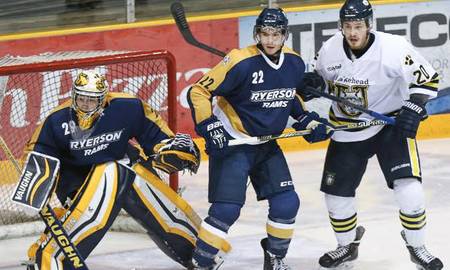 Sat Jan 16, 2016
The Lakehead Thunderwolves fell 6-3 to the Ryerson Rams before a crowd of 1,946 at the Fort William Gardens on Saturday night.
Ryerson opened the scoring 3:57 into the game when Daniel Clairmont beat Jeff Bosch, who was making his first start in the Wolves net since November.
Luca Doctor put the Rams up by two midway through the period, but Garick Gray replied for Lakehead on a goal assisted by Luke Maw and Austin McDonald at 13:34.
Clairmont notched a short-handed marker with just over three minutes left in the period to put Ryerson in front 3-1 heading into the second.
Gray got his second goal of the game at 6:36 of the middle frame when he fired the puck past Rams netminder Taylor Dupuis after a nice feed from Tyler Anton, with Kelin Ainsworth getting the other assist.
Ryerson responded on the power play when Aaron Armstrong knocked home a rebound at 14:23, and then Vince Figliomeni rifled a shot over Boschs shoulder a few minutes later to give the Rams a 5-2 lead after 40 minutes.
Clairmont completed his hat-trick with another short-handed goal early in the third to put the Wolves in an even deeper hole.
Justin Sefton converted on a Lakehead power play on a blast from the point set up by Jake Ringuette at 6:39 of the final stanzato round out the scoring.
Total shots on goal were 49-28 for Ryerson.
The Molson Three Stars of the game were:
1.Daniel Clairmont, Ryerson
2.Garick Gray, Lakehead
3.Aaron Armstrong, Ryerson
The loss drops Lakeheads OUA record to 4-12-4 (8-14-5 overall), and keeps the Wolves four points shy of a playoff berth.
After three weeks at home, Lakehead will hit the road for games at Brock and York next weekend.