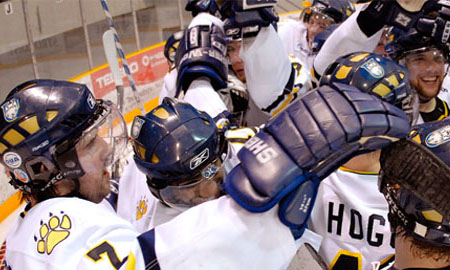 Fri Mar 21, 2003
The No. 3 UNB Varsity Reds defeated the No. 6 Lakehead Thunderwolves 4-3 Friday night in a thrilling CIS University Cup round robin game held at the Aitken Centre in Fredericton, New Brunswick.
This was an incredible hockey game featuring great goals, fast action, and the heroics of Lakehead goaltender Grant McCune who made countless incredible saves to keep the Thunderwolves close. Lakehead played a lot of the game shorthanded and McCune was kept very busy. Lakehead was led by Chris Shaffer with two goals and Mike Jacobsen notched the other Thunderwolve's tally. UNB was lead by Craig Soke with two goals and Ryan Lindsay with three assists.
Play was fast and furious in the first. Jeff Richards started the game quickly rushing down and backhanding a shot at UNB goaltender Reg Bourcier. UNB went back up the ice and Lakehead goaltender Grant McCune had to come up with a good save. UNB's Craig Soke then fired a hard shot high over the Lakehead net. Lakehead's Erik Lodge blasted a point shot that was handled nicely by Bourcier. UNB went back up the ice and Craig Mahon ripped a shot off the a Lakehead post. A Lakehead penalty proved costly when UNB's Soke beat a screened McCune with a hard shot at 6:58. Lakehead then had a great opportunity a minute later but Joel Scherban couldn't control a rolling puck in front of UNB's Bourcier. Lakehead then went on the powerplay with a two-man advantage and Mike Jacobsen made it count at 9:38 when he scored an unassisted tally by splitting two UNB defenders and beating Bourcier with a backhander. Lakehead's Murray Magill then missed an open net when he slid the puck just wide. UNB then went on the powerplay and Grant McCune robbed UNB's Ryan Walsh point blank. UNB's Jesse Ferguson made it 2-1 when he fired a quick shot off the faceoff that beat McCune high at 17:29. Lakehead ended the period with two men in the penalty box. UNB outshot Lakehead 10-6 in the first.
The second started with UNB's Soke taking a quick shot that McCune stopped. As soon as one Thunderwolf came out of the box, Lakehead's Shawn Perring was called for elbowing and Lakehead had two men in the box again. McCune came up with a good save off UNB's Jason Hegberg. He followed up with a great save off Lindsay, then another off Ferguson. McCune then robbed Lindsay point blank with an incredible stop. McCune couldn't stop them all and finally Hegberg scored with a high shot at 3:14. Lakehead's Jeff Richards flew up the ice and blasted a shot that beat Bourcier and was rolling in but UNB defenseman Craig Mahon cleared the puck off the goal line. UNB then went up the ice and Grant McCune made a great stop off UNB's Soke. Lakehead then applied some pressure but couldn't put it together for a great scoring chance. Lakehead drew another penalty and McCune was forced to come up with another series of great saves. UNB was called for a penalty after a long string of Lakehead penalties. UNB's Bourcier made a nice stop off a backhand shot by Lakehead's Richards. Bourcier then made another good save off Lakehead Captain Joel Scherban. Chris Shaffer then banged it in at 13:27, set up by Scherban to make it 3-2. The goal seemed to give the Thunderwolves new life and they applied pressure for the rest of the period and were rewarded when Chris Shaffer won a race to an open puck and blasted it past Bourcier at 18:58. UNB outshot Lakehead 16-9 in the second.
The third opened with Lakehead's Richards flying in on Bourcier and being hooked, but still getting off a backhander that was stopped by Bourcier. UNB's Soke was called for hooking, putting Lakehead on the powerplay. Lakehead could not capitalize, and UNB then went up the ice and Troy Stonier hit the post. UNB then applied the pressure and were rewarded when Soke made it 4-3 at 6:19, set up by Ryan Lindsay. Lakehead then had a three-on-one break but Murray Magill just missed. UNB then went back up the ice and G