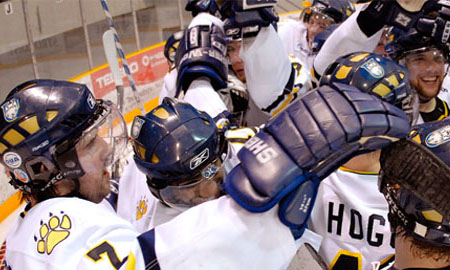 Thu Mar 20, 2003
The No. 2 UQTR Patriotes defeated the No. 6 Lakehead Thunderwolves 2-1 Thursday night in their first round robin game of the CIS University Cup National Championships held at the Aitken Centre in Fredericton, New Brunswick.
UQTR's goals came from Alexandre Tremblay and Jean-Phillippe Pare. Lakehead's goal came from Jason Lange. Both goaltenders, Lakehead's Grant McCune and UQTR's Eric Desjardins, were sharp in goal.
UQTR came out quickly applying early pressure on Lakehead. The Thunderwolves then came back with some good chances during an early powerplay. Lakehead's Murray Magill took a hard shot that was gloved nicely by UQTR goalie Eric Desjardins at the 6:00 mark. Jerome Bergeron fanned on a good chance in front of the Lakehead net during a UQTR powerplay a minute later. Lakehead goaltender Grant McCune followed with a nice save off UQTR's Jean-Nicolas Bordeleau. McCune then made a great save of Alexandre Piche, then Piche knocked it in, but the referee had blown the play dead after losing sight of the puck. UQTR's Desjardins then made a quick reaction save off a deflected shot by Lakehead's Chris Shaffer. Lakehead followed with a couple more good chances but Desjardins was up to the task. Alexandre Tremblay opened the scoring at 15:44, assisted by Jonathan Beaulieu. Lakehead then took another penalty and UQTR applied a lot of pressure but couldn't beat McCune. UQTR outshot Lakehead 14-7 in the first.
Lakehead came out fast in the second and went on the powerplay 21 seconds into the period. Desjardins first made a good glove save off a hot shot from Lakehead's Shaffer but couldn't stop Jason Lange who scored from the side of the net at 1:29, assisted by Erik Lodge and Robert Hillier. Lakehead's McCune made a great save off a hard point shot by UQTR's Bergeron at the 4:00 mark, then McCune smothered the loose puck. Both teams had good opportunities through the midway point of the period, but neither could score. Bergeron made a nice pad save off a redirection by Lakehead's Kris Bragnalo. UQTR then applied heavy pressure during a powerplay and were rewarded by a goal by Jean-Phillippe Pare at 14:59, assisted by Beaulieu, and Bordeleau. Lakehead then had some good powerplay chances, but couldn't put the puck past Desjardins. Lakehead outshot UQTR 9-8 in the second.
The Thunderwolves flew out of the gate to begin the third highlighted by Chris Shaffer just sliding the puck wide of the UQTR goal at the 1:45 mark. UQTR's Simone Tremblay was given a minor and a game misconduct for hitting from behind at 2:25 but Lakehead couldn't take advantage of the powerplay opportunity. UQTR's Beaulieu missed a golden chance when he just missed knocking in a loose puck at 5:00. UQTR then went on the powerplay again but couldn't beat McCune. Les Patriotes had another powerplay at 14:49, and Lakehead's McCune made an incredible save off UQTR's Pare. Lakehead's Shaffer then broke out alone and just missed beating Desjardins shorthanded. UQTR's Pare then went right back up the ice and was robbed by a great glove save by McCune. Lakehead pressed hard in the last two minutes, pulling goaltender McCune with a minute left. Lakehead had multiple chances during a mad scramble in the last 20 seconds but couldn't put the puck past Desjardins. Lakehead outshot UQTR 11-9 in the third and UQTR outshot Lakehead 31-27 in the game.
Lakehead Head Coach Pete Belliveau said his team battled hard against UQTR. "As a coach, all I can ask of my players is that they give 100% and they did. We left it all on the ice. We played pretty well but we couldn't put the puck in the net. We've got to regroup and get ready for UNB tomorrow night."
Lakehead plays the University of New Brunswick Varsity Reds Friday at 6:00 p.m. EST at the Aitken Centre Arena.