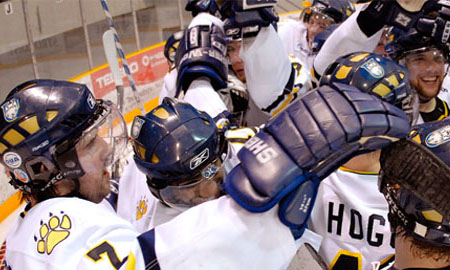 Sat Mar 08, 2003
The No. 9 York Yeomen defeated the No. 3 Lakehead Thunderwolves 4-1 in their Queen's Cup semi-final Saturday night at the Thompson Arena in London.
It was an exciting game that featured stellar goaltending by York's Derek Dolson. York was led by the great all-around play of All-Star defenseman Sal Lettieri who scored the game winning goal. Daryl Bat, Philip Knapp, and Jesse Johnston notched York's other goals. Lakehead's marker came from Robert Hillier, his fifth of the playoffs.
The first period was very fast with quick two-way play and featured excellent goaltending. Lakehead goaltender Grant McCune came up with a fine early pad save off York's Kevin Edgar. Philip Knapp opened the scoring for York at 2:37 when he intercepted an errant pass in front of the Lakehead goal by defenseman Hugo Lehoux and Knapp quickly drove it past McCune. A minute later, Lakehead's Joel Scherban broke in on York goaltender Derek Dolson and Dolson made a good pad save off Scherban's backhander. Dolson followed with a good glove save off Jeff Richards at 12:09. York's Knapp then rifled a shot that was stopped nicely by McCune. Dolson came up with another excellent save off Scherban during a Lakehead powerplay. Lakehead's McCune was forced to come up with a great shorthanded save during the same powerplay. Lakehead's Tyler Williamson then beat Dolson but shot the puck off the post. McCune made a quick reaction save off a deflection during a York powerplay. Lakehead outshot York 15-9 in the first period.
Grant McCune made a great glove save off York's Knapp who broke in on a shorthanded breakaway at the two minute mark of the second. York's Dolson made a fine save off a hard shot by Lakehead's Jason Lange. York then applied some pressure and McCune was forced to come up with a big stop off a blast by York's Daryl Bat. York made it 2-0 when Sal Lettieri scored with a shot from the point at 7:59, assisted by Shane Nash. York kept up the pressure during a powerplay and Jesse Johnston made it 3-0 at 10:43. Lakehead's Jeff Richards then went down and just missed with a shot, and Hugo Lehoux also missed with the follow-up shot. Lakehead's Robert Hillier put the Thunderwolves on the scoreboard at 18:17 when he made a great move past a York defenseman and then beat Dolson 5-hole. York outshot Lakehead 11-7 in the second period.
Lakehead came out fast in the third and applied some early pressure in the third. York then took control of play and Daryl Bat made it 4-1 at 6:50. Lakehead applied some pressure during a powerplay opportunity but Dolson made two great saves of Lakehead's Bryan Duce. Lakehead kept up the pressure but couldn't beat Dolson. York's Rich Williams came out of the penalty box and blasted a hard drive that Lakehead's McCune handled nicely. Dolson came up with another big stop off Lakehead's Richards at the 16:00 minute mark. York played defensively to end the game, not allowing Lakehead any more good scoring opportunities. York outshot Lakehead 8-7 in the third and Lakehead outshot York 29-28 in the game.
Lakehead Head Coach Pete Belliveau said York earned the win. "They deserve full marks for their game. They outworked us, outhustled us, and outplayed us. It was our worst game of the year, period. Now, we've got to regroup and get ready for Toronto tomorrow."
Lakehead plays Sunday against No. 7 Toronto in the third place game at 3:00 p.m. The winner of that game will join York and UQTR in a trip to the CIS University Cup National Finals in Fredericton, New Brunswick Mar. 20-23. York will take on No. 2 UQTR in the Queen's Cup Final Sunday at 7:00 p.m. at the Thompson Arena. UQTR advanced to the final by beating Toronto 6-3 in the first semi-final Saturday.