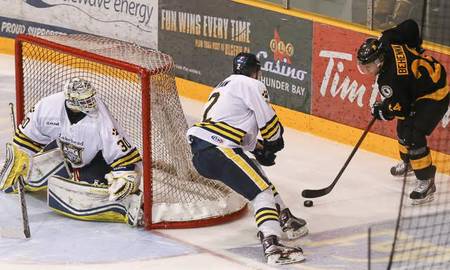 Fri Jan 29, 2016
The Lakehead Thunderwolves stormed back from a 2-0 deficit with five unanswered goals to defeat the Waterloo Warriors 5-2 before a crowd of 2,075 at the Fort William Gardens on a snowy Friday night in Thunder Bay.
Wolves Goalie Devin Green was outstanding, turning aside 41 of the 43 shots he faced while Kelin Ainsworth and Billy Jenkins registered four points each and linemate Garick Gray added three on the night.
The Warriors came out strong, firing 18 shots at Green in the first period and Colin Behenna scored twice while Waterloo held the man-advantage late in the opening frame.
Gray started the Lakehead rally 2:05 into the second when he batted a loose puck past Warriors netminder Mike Morrison from the top of the crease, and then Dylan Butler scored just over a minute later to tie the game and turn the tide for the Thunderwolves.
Jake Wright tapped the puck in from a sharp angle after a nice set-up by Jenkins and Justin Sefton while the Wolves were on the power play to give Lakehead the lead for good at the 5:40 mark.
Ainsworth scored late in the period to provide the Wolves with a two-goal cushion heading into the final 20 minutes, and then he pounced on a rebound midway through the third to seal the deal for Lakehead.
The Molson three stars of the game were:
1.Devin Green, Lakehead
2.Kelin Ainsworth, Lakehead
3.Billy Jenkins, Lakehead
The win improves the Wolves OUA record to 6-13-4 (10-15-5 overall) and keeps Lakeheads playoff hopes alive.
The Wolves will look to continue their winning ways when they battle it out with the Warriors again tomorrow night beginning at 7:00 p.m.