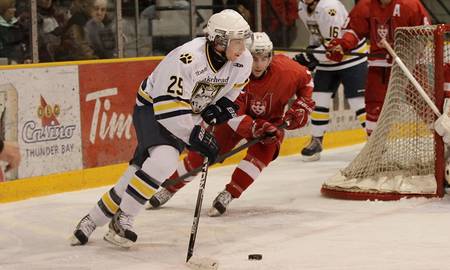 Sat Dec 29, 2012
The Lakehead Thunderwolves overcame a 4-2 third-period deficit to beat the McGill Redmen 5-4 on Saturday night in front of 2,529 fans in the Christmas Challenge at the Fort William Gardens in Thunder Bay.
McGill opened the scoring at 15:39 of the first with Lakeheads Carson Dubchak in the box for kneeing. Jonathan Brunelle scored on the power-play on a nice one-timer that Wolves goalie Jeff Bosch didnt have much of a chance on.
McGill increased its lead to 2-0 just 30 seconds into the second period as a point-shot from Redmen defenseman Nicolas Cucuzza-Biniek bounced off a couple bodies on the way to the net.
Matt Caria cut McGills lead to 2-1 on the power-play, taking the puck hard to the net and putting it past Redmen netminder Andrew Flemming. Assists on the goal were credited to Trevor Gamache and Mike Quesnele.
McGill regained its two-goal lead when Ryan McKiernan stepped into a shot and blasted it past Bosch.
Lakehead closed the gap to 3-2 at the 18:00 mark on the power-play, as Mike Hammond fed a great pass to Adam Sergerie who one-timed a rocket past Flemming. The second assist went to Matt Caria.
In the final stanza, McGill restored its two-goal lead with Matt Caria in the box for hooking, on a play that should have been blown dead after a pile-up in the crease. Nonetheless it counted, and Patrick Delisle-Houde was credited with the marker.
Midway through the third period, Mike Hammond broke in on a partial breakaway while the Wolves were short-handed and put a perfectly placed shot up and over Flemming, closing the gap to 4-3.
Then at 12:47, Hammond was awarded a penalty-shot after being taken down on a shorthanded breakaway. He made no mistake, outwaiting Flemming and sliding it through his pads, tying the game up at 4-4.
Minutes later with the Wolves on the power-play, Sergerie notched the winner on his second goal of the game when he banged home a loose puck after some nice work by Caria out-waiting two McGill defenders. Mike Hammond was credited with the second assist.
The Molson 3 Stars of the game were:
1.Mike Hammond, Lakehead
2.Matt Caria, Lakehead
3.Adam Sergerie, Lakehead
The Thunderwolves are home next weekend when they take on the Guelph Gryphonsto begin the second halfof OUA regular season play.