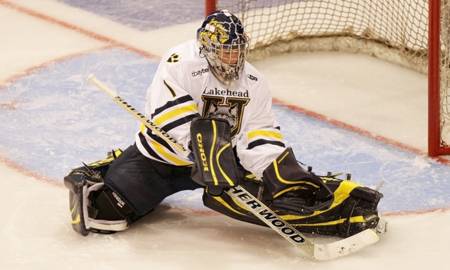 Sat Oct 06, 2012
The Lakehead Thunderwolves hockey team defeated the Guelph Gryphons 5-4 Saturday night at the Gryphon Centre Arena in Guelph, Ontario. The win completed the weekend sweep of the Gryphons, and improves the Wolves record in OUA regular season play to 2-0-0.

Both teams traded power play goals in the first, with Matt Caria opening the scoring for Lakehead at 8:41 by beating Guelph goalie Andrew Loverock after being set-up by Thomas Frazee and Luke Judson. Justin Gvora responded for the Gryphons by putting one past the Wolves netminder Alex Dupuis at 16:31, and the first period ended with the scored knotted at 1-1.

Just like the night before, the Thunderwolves exploded in the second period with three straight goals, the first two of which were on the power play. Judson scored from Mike MacDonald and Mike Hammond just 38 seconds into the middle frame, and then at 6:34 Keith Grondin found the back of the net with assists going to MacDonald and Mike Quesnele.

Trevor Gamache scored the first even-strength goal of the night at 11:07 to extend the Thunderwolves lead to 4-1, with the assists credited to Carson Dubchak and Chris De la Lande. Guelphs Edward Gale cut the lead to 4-2 with another power play marker at 16:20, but Jay Gilbert restored the Wolves three-goal lead just 36 seconds later on a blast set up by Judson and Riley McIntosh, giving Lakehead a 5-2 edge heading into the third period.

Guelph applied a lot of pressure in the final stanza, and narrowed the lead to 5-3 when Brett Appio scored just 1:43 into the period. Things got even tighter for the Wolves at the 8:33 mark when the Gryphons Andrew Bathgate found the back of the net, cutting Lakeheads lead to 5-4. But the Wolves defence held up for the remainder of the game to seal their second straight victory.

The Thunderwolves will look to keep their winning ways going next weekend when they return home for a pair of games versus the York Lions. Game times as usual will be 7:30 on Friday and Saturday nights at the Fort William Gardens.