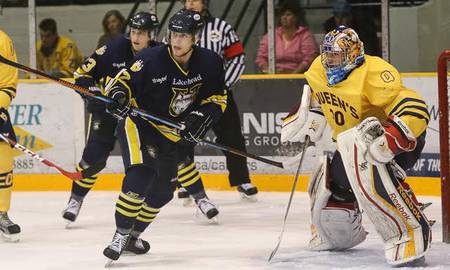 Sat Oct 24, 2015
Lakehead fell 4-1 to Queens as the Gaels completed the weekend sweep of the Thunderwolves before a crowd of 2050 at the Fort William Gardens Saturday night.
Patrick McGillis put Queens up 1-0 early when he scored on Lakehead goalie Jeff Bosch just 2:17 into the game.
The Wolves only goal of the night came four minutes later when Carson Dubchak tipped Cody Alcocks shot past Gaels netminder Kevin Bailie to even the game at 1-1.
A short-handed goal by McGillis at 8:54, followed by an even-strength marker from Braden Mercier at 15:18 gave Queens a 3-1 lead after 20 minutes of play.
The Gaels padded their lead when Shawn Boudreau converted on the power play with 7:25 left in the middle frame.
Freshman Devin Green replaced Bosch in the Wolves goal for the third period, one in which neither team scored as Queens held on for the win.
Shots on goal for the game were 38-28 in favor of the Gaels.
The Molson Three Stars of the game were:
1.Patrick McGillis, Queens
2.E.J. Faust, Lakehead
3.Kevin Bailie, Queens
Lakehead will travel to Montreal next weekend for a pair of games with the McGill Redmen.