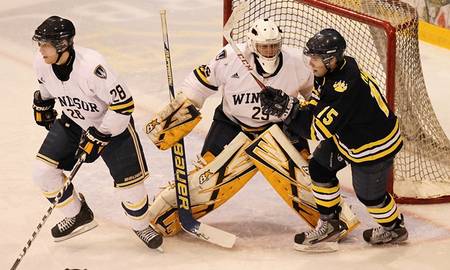 Sat Jan 26, 2013
The Lakehead Thunderwolves beat the Windsor Lancers 3-2 in an overtime shootout Friday night at the Windsor Arena, led by a strong performance by Wolves netminder Alex Dupuis.

Lakeheads Mike Quesnele opened the scoring just 4:16 into the game on a power play marker that eluded Lancers' goalie Parker Van Buskirk after being set up by Trevor Gamache and Mike MacDonald.
Both teams traded chances for the rest of the first period as well as the middle stanza, but neither the Wolves nor the Lancers were able to find the back of the net.

Windsor finally brokeits scoring drought at 8:31 of the third period on a goal by Matt Beaudoin, but less than four minutes later Ryan Magill fed Matt Caria who restored Lakeheads one-goal lead. The lead was short-lived, however, as Windsors Brent Oliphant broke through 30 seconds later while short-handed and beat Dupuis to knot the score at 2-2.

Neither side was able to generate much offense for the remainder of the period, and the game was headed to overtime.

Windsor controlled most of the play in the extra time, outshooting Lakehead 8-1 in that five-minute span. But Dupuis stood tall in the Wolves net, forcing a shootout.

Trevor Gamache and Luke Judson both scored on Lakeheads first two attempts in the shootout, and Dupuis stopped Windsors Evan Stibbard and Spencer Pommels to seal the victory.

Shots on goal favored Windsor 32-22 for the game.

The win improves Lakeheads record to 14-7-2 and leaves the Wolves in fourth place, but just one point behind the Lancers and two points behind Guelph in the OUA West Division.

Lakehead and Windsor will face off again Saturday night beginning at 7:30.