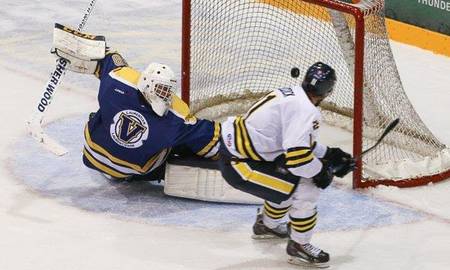 Fri Oct 02, 2015
Cody Alcocks goal with 35 seconds left in the first overtime period delighted 2250 fans at the Fort William Gardens on Friday night and lifted the Lakehead Thunderwolves to a 4-3 victory over the Laurentian Voyageurs.
The Wolves overcame plenty of penalty trouble to secure the win as all three of Laurentians goals came when the Voyageurs had the man-advantage, while all four of Lakeheads markers were scored when both teams were at even strength.
Alcock bookended the scoring on the night as he also struck just 3:51 into the opening period to get the Wolves on the board first, with Jake Ringuette and Justin Sefton picking up the assists.
Laurentians Brent Pederson evened the score at 1-1 when he slipped the puck past Lakehead goalie Jeff Bosch midway through the first period.
Trevor Hynnes put the Wolves in front 2-1 early in the second when he finished off an odd man rush by beating Voyageurs netminder Alain Valiquette up high, with Ringuette and Matt Alexander getting the helpers.
Nicolas Dionne evened the score at 2-2 with just over five minutes left in the middle frame.
Ringuette scored at 5:26 of the third period to give Lakehead a 3-2 lead, but his double-minor for high-sticking allowed Christopher Smith to tie the game at 3-3 with just under three minutes left in regulation.
Overtime play began with Wolves killing off another double-minor for high-sticking after David Quesnele was sent to the box with only a few seconds left in the third period, but several timely saves by Bosch kept Lakehead alive.
Shortly after returning to full strength, Alcock broke in alone on Valiquette and beat him with a beautiful backhander to seal the win for the Thunderwolves.
Shots on goal for the night were 37-35 in favor of Lakehead.
The Molson Three Stars of the game were:
1.Cody Alcock, Lakehead
2.Jake Ringuette, Lakehead
3.Jeff Bosch, Lakehead
The two teams will take to the ice again tomorrow afternoon with the opening face-off set for 2:00 p.m.