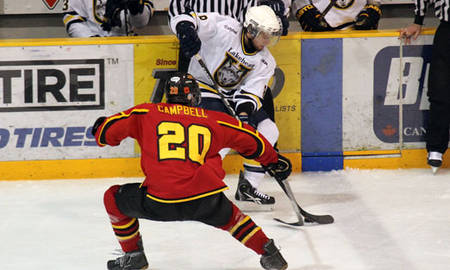 Fri Oct 05, 2012
The Lakehead Thunderwolves hockey team overcame a slow start to defeat the Guelph Gryphons6-3 in the OUA regular season opener at the Gryphon Centre Arena in Guelph, Ontario on Friday night.

Edward Gale drew first blood by beating Lakehead netminder Alex Dupuis on the power play at 19:13 of the first period. Guelph outshot the Thunderwolves by a margin of 13-2 in the opening stanza.

The second period saw a different Lakehead team emerge from the dressing room, as the Wolves responded with four straight goals. Thomas Frazee tied the game at 2:19 of the middle frame when he put one past Guelph goaltender Cody St. Jacques after being set up by Keith Grondin. Carson Dubchak gave the Wolves the lead on a nice feed from Ryan Magill at 12:32, and freshman Luke Judson added another marker assisted by Matt Caria only 24 seconds later. Then at the 17:22 mark of period, Judson potted his second in a row, set up once again by Caria, with the other assist going to Mike Hammond.

Guelph took advantage of another power play opportunity when Matthew Lyall cut the Lakehead lead to 4-2 at 19:08 of the second. Lakehead outshot the Gryphons 17-13 in the period.

The Wolves extended the lead to 5-2 early in third period when Trevor Gamache scored an unassisted goal at 1:19. Guelph responded at 5:47 with its third power play goal of the game when Kenneth Peroff snuck one past Dupuis to narrow the margin to 5-3. Dubchak scored his second goal of the game into an empty net at 19:23, with the assists going to Caria and Mike MacDonald, to make the final score 6-3 for Lakehead.

Guelph outshot Lakehead 11-8 in the third period, and 37-27 on the game. The Gryphons were 3 for 12 on the power play, while the Wolves went 0 for 7.

The two teams will be at it again tomorrow night at the Gryphon Centre Arena, with the opening face-off set for 7:30.