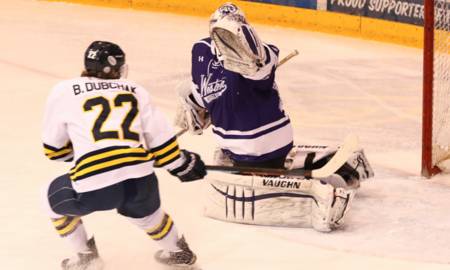 Thu Nov 12, 2015
Lakeheads comeback attempt fell just short as the Thunderwolves were edged 5-3 by the Western Ontario Mustangs at the Thompson Arena in London on Thursday night.
The Mustangs drew first blood when Adam Goldberg beat Lakehead goalie Jeff Bosch up high with a wrist shot from the face-off circle at 5:49 of the opening period.
E.J. Faust evened the score at 16:04 when he tipped Jay Gilberts point shot between the legs of Western netminder Peter Delmas while the Wolves were on the power play, but Shaun Furlong put the Mustangs back in front with a slap shot from ten feet inside the blue line late in the period.
Furlong struck again midway through the second on a snap shot from the top of the crease, and then at 14:23 completed the natural hat-trick from the slot to give the Mustangs a 4-1 lead.
Western dominated the play for most of the middle frame, but Lakehead regrouped in the final five minutes and narrowed the margin to 4-2 at 16:29 when Dylan Butler converted on a two-on-one after taking a nice pass from Matt Alexander. Then with only 15 seconds left on the clock, Carson Dubchak scored on a breakaway after receiving a perfect feed from Brennan Dubchak to cut Westerns lead to 4-3 heading into the third.
Lakehead continued its strong play in the final twenty minutes, but an empty-netter by Alex Micallef with 1:03 remaining iced the game for the Mustangs.
Shots on goal for the night were 34-29 in Westerns favor.
The Wolves will look to rebound when the two teams square off again tomorrow night at 7:00 p.m.