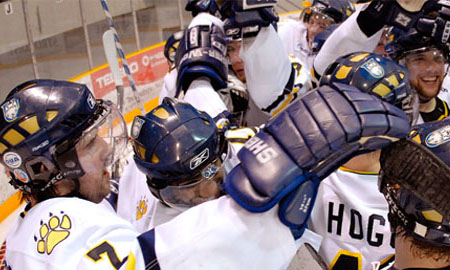 Tue Apr 22, 2003
To our fans and sponsors,
In two short years of existence the Lakehead University Thunderwolves Hockey Team has achieved outstanding success. On the ice, we prevailed over some of the best teams in Canada and we are currently ranked in the top 10. Off the ice, we are ranked number 1 in attendance and game presentation.

On behalf of Lakehead University Thunderwolves Hockey Team I would like to take this opportunity to extend our sincere appreciation to those who are primarily responsible for this success:

1. Fans - We have said it before and we will say it again and again that we have the greatest fans in Canadian University Hockey. The way you have embraced our players and supported us in all of our endeavors has encouraged our very young team to be as good as they have become. Our home record is what it is because of your support. Players who have come to us from across the Country and teams with whom we compete, are amazed by your enthusiasm. You inspire us to get better everyday and you have put Lakehead University and Thunder Bay on the map.

2. Sponsors - We have encouraged the business community to invest a part of their advertising budget in the Thunderwolves Hockey Program because we believe that the more we can do to promote Lakehead University and Thunder Bay together, the more positive the future for all of us. Without the enormous support from the business community, the Thunderwolves Hockey Program could not survive. We thank you for being a very big part of our team.

It is important to our Fans and Sponsors to understand that as a business we rely totally upon the financial support that we receive from them. Every dollar earned by the Thunderwolves goes back into the program.

Thank you again for your continued support and we look forward to seeing you in September. Have a healthy and happy summer.
Yours very truly
James R. Johnson