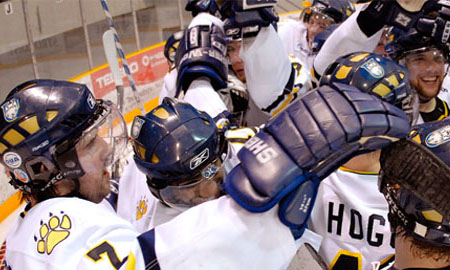 Sun Mar 09, 2003
A goal by team Captain Joel Scherban gave the No. 3 Lakehead Thunderwolves a wild 6-5 double overtime win over the No. 7 Toronto Varsity Blues in the Queen's Cup Bronze Medal game Sunday afternoon at the Thompson Arena in London. The third place finish at the Queen's Cup means Lakehead will advance to the CIS University Cup National Championships which will be held in Fredericton, New Brunswick March 20-23. Queen's Cup Finalists York and UQTR also qualified for the University Cup from the OUA.
Lakehead was led by Joel Scherban with three goals and an assist while Chris Shaffer added a goal and two assists. Jeff Richards and Robert Hillier both notched a goal and an assist. Toronto was led by Steve Hoar with two goals. George Trifon, Tyler Middlebrook, and Steve Murphy scored the other Toronto goals.
It was a very close game with both goaltenders putting on a show. Lakehead's Grant McCune and Toronto's Jamie Bruno came up with a bushel of spectacular saves between them.
The first period was very fast with a lot of good scoring opportunities for both teams. An early first period Toronto penalty proved costly as Lakehead's Captain Joel Scherban scored on the powerplay at 1:24, after knocking it in during a goalmouth scramble. Lakehead goaltender Grant McCune came up with a big stop off Toronto's Mike Hutchison a minute later. Lakehead then applied the pressure, forcing Toronto goalie Jamie Bruno to make a series of good saves. Then, Toronto's Steve Hoar knocked in a rebound at 5:43 off a shot from the point by Aaron Wilson. Toronto quickly jumped into the lead when George Trifon knocked in a rebound at 6:08. Lakehead's McCune then made a great leg save to keep Toronto from taking a 3-1 lead. McCune made another good save of Toronto's Jeff Todd who came streaking in alone. Toronto kept up the pressure, and McCune came up with more big stops. Lakehead applied some late period pressure but couldn't beat Bruno. Lakehead outshot Toronto 14-11 in the first period.
Toronto Captain Steve Murphy opened the scoring in the second at 1:54, giving the Blues a 3-1 lead. Toronto's Bruno made a great save of Scherban at the 7:00 mark. Lakehead's Scherban brought his team within one at 6:49 when he knocked in a pass from Jeff Richards. Richards tied the score 20 seconds later when he took the puck in and blasted a puck from just inside the blue line that beat Bruno stickside at 7:09. Then Toronto's Steve Hoar notched his second of the game at 8:43 to give the lead back to the Blues. Lakehead applied some pressure during a powerplay but couldn't beat Bruno again. Lakehead's Grant McCune came up with the save of the game on a Toronto two on one when he stretched his leg out and stopped George Trifon from popping it into the empty net with a toe save. Lakehead outshot Toronto 11-7 in the second period.
The first five minutes of the third featured a lot of Toronto forechecking, as the Blues were playing defensively to contain Lakehead. Lakehead then began to put on the pressure. Bruno came up with a big save off a hard shot by Lakehead's Erik Lodge at 6:10. He followed up with more good stops off Lakehead's Murray Magill and Joel Scherban. Toronto had a little flurry of their own, but McCune was up to the task. During a Lakehead powerplay at the midway mark, Bruno made three great saves off Lakehead's Mike Jacobsen and Chris Shaffer. Then Toronto Captain Steve Murphy jumped on a hard rebound and broke in alone on a breakaway on Lakehead's McCune, but McCune came up big again. McCune made another good save off Toronto's Mike Nason a minute later. Lakehead's Chris Shaffer tied it at 14:41 when he buried a loose puck upstairs on the backhand by Bruno. Robert Hillier made it 5-4 Lakehead at 17:32 when he launched a rocket past Bruno. Toronto then applied intense pressure trying to get the tying goal. Lakehead's McCune made an incredible save off a wide open George Trifon with 1: