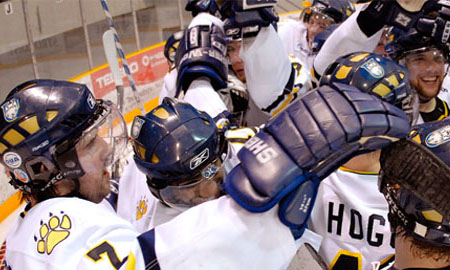 Sat Mar 01, 2003
An overtime goal from star rookie forward Jeff Richards 16 seconds into the first overtime period gave the No. 4 Lakehead Thunderwolves an exciting 2-1 victory over the No. 2 and defending CIS Champion Western Mustangs at the Thompson Arena in London Saturday night. The win gives Lakehead a 2-0 sweep of their best-of-three OUA Far West Division Finals.
It was an exciting game that featured stellar goaltending by Lakehead's Grant McCune and Western's Mike D'Alessandro. Richards scored both goalsfor the Thunderwolves while Tom Brown replied for the Mustangs.It was also Lakehead's first win at Thompson arena.
Play was a little tentative in the early going with the first good scoring chance going to Lakehead's Richards who made a nice move past Western defenseman Shawn Thompson and fired a backhander that was stopped nicely by Western goaltender Mike D'Alessandro. Western applied some pressure after the 5:00 mark and Lakehead goaltender Grant McCune made a great save off a Western's Jeff Martin. During a Lakehead penalty to Kris Bragnalo, McCune made a good stop off a point blast by Western's Ryan Mckie. Lakehead's Richards then sped up the ice and D'Alessandro made another good save. Richards missed a good chance during Western penalty when he couldn't control a loose puck in front of D'Alessandro.
Both teams opened up in the second, forcing both goaltenders to be very sharp in the action-packed period. Lakehead's McCune made a great pad save of Western's Ryan Held early in the second during a Lakehead penalty, followed by another good stop of Darren Mortier. Then Western's D'Alessandro squeezed his pads together to prevent a Bryan Duce shot from trickling through. Lakehead's McCune then came up with a great save, knocking down a hard shot by Jeff Martin with his glove. McCune followed up with another huge save, off Western's Joe Talbot. Lakehead went back up the ice and D'Alessandro made a great save off a rocket blast from Erik Lodge. Western then applied some pressure, and McCune made another great glove save off Ryan Held at 10:35.
Western's Tom Brown finally broke through at 10:52, when he fired a hard shot from the point that beat a screened McCune. Lakehead's Bryan Duce almost tied it up soon after when he came from behind the net, trying to beat D'Alessandro, but the Western goaltender quickly stuck out his pad to save a goal. Then Lakehead's Richards used his speed to intercept an errant Mustang's pass in the Western end and rifled a hard shot that beat D'Alessandro high to his stick side at 14:01. Lakehead's Robert Hillier then blasted a shot that forced D'Alessandro to make another big stop. Lakehead's bruising defenseman Aaron Piccinin then crunched Western's big man, Cris Berti with a massive check. Western's Joe Talbot almost gave Western the lead when he flipped the puck over the Lakehead net, ending in a goalmouth scramble that was stopped by a stickless McCune freezing the puck with his glove. Lakehead ended the period on the powerplay but weren't able to capitalize.
Western went on the powerplay three minutes into the third and had some good chances that were turned aside by Lakehead's McCune, including a lightning-fast glove save off Western's Tim Zafiris. Western kept up the pressure, including a goalmouth scramble, but weren't able to capitalize. Then Lakehead's Murray Magill intercepted a Western pass and took a hard shot that was stopped nicely by D'Alessandro. Western's Chris Haskett then took a hard shot that was blocked by McCune. Lakehead's Aaron Piccinin made an errant pass that was picked off by Western's Talbot who broke in alone and fired a shot that was kicked out by McCune. The rebound came back to Talbot and he blasted the puck wide. Western applied even more pressure with under five minutes left, and Grant McCune came up with big save after big save. Lakehead then applied pressure in the last two minutes and Jason Lange<