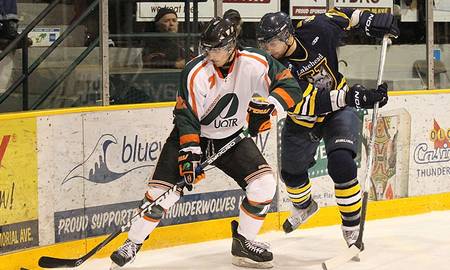 Fri Nov 09, 2012
The Lakehead Thunderwolves lost 3-2 to the UQTR Patriotes in a shootout in front of 2795 fans on Friday night at the Fort William Gardens in Thunder Bay, ON.
Lakehead controlled the play in the first period, coming out aggressively and with a lot of energy.
Mike Quesnele got things going for Lakehead after the puck squirted out from behind the net to the blueline, allowing him to step into it and fire a bomb past UQTR netminder Guillaume Nadeau at 10:37 of the first. Mike Hammond had the lone assist.
Not long after that, freshman Luke Judson potted his tenth goal of the season as he pounced on a loose puck in front of the net and shovelled it past NadeThe assists on the goal were credited to Matt Caria and Hammond.
The Thunderwolves kept their foot on the gas in the second period, creating a lot of chances and throwing their bodies around every chance they got.
The Wolves momentum took a hit after Brennan Menard was sent to the penalty box for a high-sticking double-minor. Patriotes forward Tommy Tremblay re-directed a shot up and over Wolves goalie Alex Dupuis shoulder to pull UQTR to within one.
While still on the power-play, UQTR evened things up on a goal from Charles Bety.
It wasnt as if Lakehead didnt have its chances. The Wolves controlled the play for the majority of the period, and Thomas Frazee ripped a shot off the post late in the second. Both teams went to their dressing rooms tied up at two.
The third period was a spirited affair with both teams fighting for every inch of ice. Lakehead had a couple great chances to take back the lead, but the goal-post was Guillaume Nadeaus best-friend again. Judson wired a wrist shot off the crossbar on a nice feed from Hammond, and later in the period sophomore defenceman Chris de la Lande rang a shot off the post.
Overtime solved nothing, in the shootout Matt Caria put a terrific move on Nadeau, but fired the puck off the post.
After stopping the first two Patriotes shooters, Pierre-Luc Lessard put it past Dupuis for the win. Dupuis was very strong between the pipes for the Wolves all night long.
Molson 3 Stars of the game were:
1. Pierre-Luc Lessard, UQTR
2. Alex Dupuis, Lakehead
3. Luke Judson
Both teams are back at it Saturday night at the Fort William Gardens.