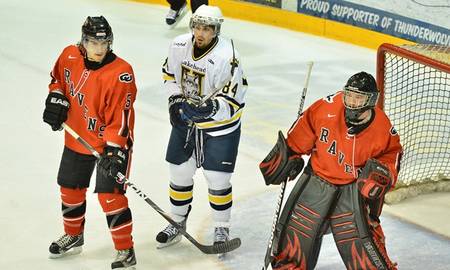 Sat Nov 03, 2012
The Lakehead Thunderwolves lost 6-2 to the Carleton Ravens Friday night at the Ice House in Ottawa, Ontario. Penalties did the Wolves in on this night, as four of Carletons goals came on the power play.

Jeff Hayes opened the scoring for the Ravens with a drive that beat Lakehead netminder Alex Dupuis less than three minutes into the game. Then at 8:27, Hayes added another, this time while the Wolves were short-handed, to give Carleton a 2-0 lead after the first period. The Ravens outshot Lakehead 11-6 in the first period.

Lakeheads top line got the Wolves on the board early in the second to cut the lead to 2-1, when Mike Hammond blasted one past Carleton goalie Francis Dupuis after being set up by Luke Judson and Matt Caria. But the Ravens responded with two more power play goals in the middle frame to extend their lead to 4-1. The first was a Ryan Berard goal at the 5:33 mark, and then Hayes completed his hat-trick at 12:39 to round out the scoring for the period, one in which both teams fired 12 shots on the opponents goal.

Joey Manley extended the Ravens lead to 5-1 just over three minutes into the third period, but Lakeheads Riley McIntosh responded a minute later to narrow the margin to 5-2. Assists on the goal were once again credited to Judson and Caria. Mitch Porowski scored Carletons fourth power play goal of the night at 6:02 of the final stanza to round out the scoring at 6-2 for the Ravens. Carleton outshot Lakehead 10-5 in the third period and 33-23 for the game.

Lakehead went 0 for 8 on the power play, while Carleton was 4 for 12 with the extra attacker.

The loss drops Lakeheads OUA record to 5-3-1, and improves Carletons to 4-2-1.

The two teams will face off again Saturday in a matinee beginning at 3:00 p.m.