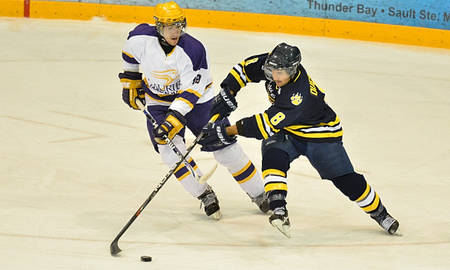 Sat Oct 20, 2012
The Lakehead Thunderwolves hockey team shut out the Laurier Golden Hawks 4-0 at the Brantford Civic Centre on Saturday night. All four of Lakeheads goals came on the powerplay.

After a scoreless first period in which Lakehead outshot Laurier 12-6, Thomas Frazee opened the scoring for the Wolves at 2:32 of the second period, beating Laurier goaltender Ryan Daniels on a drive set up by Mike MacDonald and Keith Grondin. Just over four minutes later, Grondin scored to make it 2-0 for Lakehead, with assists credited to MacDonald and Mike Quesnele. That was all the scoring in the middle stanza, and the Thunderwolves once again outshot the Hawks by a 14-10 margin.

Lakeheads prowess with the man advantage continued in the third, and Luke Judson hammered one home at 8:06 to give the Wolves a 3-0 lead. Mike Hammond and Matt Caria got the assists on the goal. The Thunderwolves rounded out the scoring at 4-0 when Frazee notched his second marker of the night at 12:20, with the helpers going to Quesnele and Adam Sergerie.

Lakehead outshot Laurier 9-8 in the final frame and 35-24 on the night. Alex Dupuis was perfect on goal recording the shutout, as were the Wolves special teams units. Lakehead scored all four times it had the man advantage, and killed off all six of Lauriers powerplays.

The win improves the Thunderwolves record to 4-1-1; good for first place in the OUA West Division.

Lakehead returns home next weekend for a pair of games against the Western Ontario Mustangs.