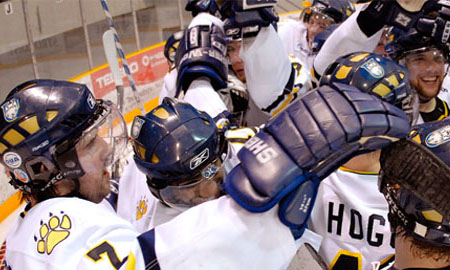 Thu Mar 06, 2003
Your No. 3 Lakehead Thunderwolves will take on the No. 9 York University Yeomen in the Queen's Cup Semi-final on Saturday at 7:00 P.M. at the Thompson Arena on the campus of the University of Western Ontario in London.
The game features two high-powered offenses and two stingy defenses. Lakehead was fourth in the OUA in goals for with 125 and fourth in goals against with 64. The game also features a matchup between the best powerplay in the OUA (Lakehead) and the best penalty kill (York).
Head Coach Pete Belliveau said his team is looking forward to participating in the quest for Canadian university hockey's most historic cup. "We are very happy to represent the Far West division in the battle for the Queen's Cup. We understand the history behind this prestigious Championship. It will be a very intense weekend and we are looking forward to representing Lakehead University.
Lakehead goes into the game with an OUA regular season record of 18-6 and an overall record of 27-10-2. Lakehead swept both Windsor and Western in the OUA Far West playoffs. The Thunderwolves split their regular season series with York, winning the first game 5-2 and losing the second 3-0.
Coach Belliveau expects a hard fought game with the Yeomen. "We have lots of respect for York. We played them in November and we came away very impressed with their depth at all positions, particularly in goal. We all saw what Dolson brings to their team. They have speed and skill and their coaches know how to win. This will be a tough playoff game!"
Thunderwolves fans can catch all the action live with CKPR Sports Director Bryan Wyatt on 580 CKPR AM radio in Thunder Bay, and across Canada on the internet at