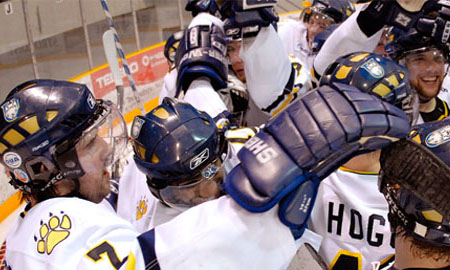 Thu Mar 20, 2003
Congratulations to Thunderwolves' Captain Joel Scherban and rookie Jeff Richards for garnering honours at this year's CIS Gala Awards dinner held Wednesday at the Fredericton Inn in Fredericton, New Brunswick. Captain Joel Scherban was named the CIS Most Sportsmanlike Player in Canadian University Hockey while Richards was named to the CIS All-Rookie Team.
Scherban totalled only 4 penalty minutes in the regular season while logging incredible ice time as the team's first-line centre. The second year Commerce student placed sixth in OUA in scoring with 11 goals and 24assists for 35points. He helped the T-Wolves finish first in the conference on the powerplay, and tied for second on the team with a plus/minus of +21.
This year,Scherban was also named to the OUA West Conference First All-Star Team for the second consecutive year, and also won the OUA West Conference Most Sportsmanlike Player Award this season.
Lakehead's rookie star Jeff Richards led the CIS and OUA in rookie goals (second in OUA and third in CIS overall scorers) and was second in the CIS and first in OUA in rookie points. The first year General Arts student from Kenora, Ont. Was was named an OUA West Conference Second Team All-Star and also named to the OUA West Conference All Rookie Team this season.
Reminder that tonight's game will be aired on 580 CKPR AM radio in Thunder Bay and over the internet on www.ckpr.com For our fans outside Thunder Bay, if the CKPR internet servier is full, you can also hear the game live at http://www.unb.ca/chsr/home.html