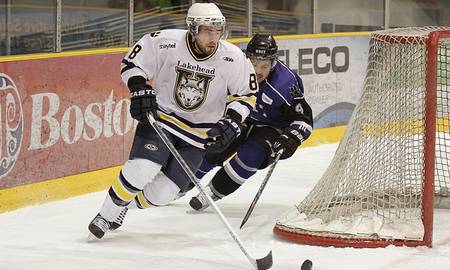 Sat Jan 19, 2013
The Lakehead Thunderwolves beat the Ontario Tech Ridgebacks 6-3 on a snowy Saturday night in front of 2197 fans at the Fort William Gardens in Thunder Bay, ON. Special teams played a big role in the win, as the Wolves recorded three short-handed goals and another on the power play.
Much like Friday night, Lakehead controlled the play early, but it was the Ridgebacks that got on the board first on a strange goal. Lakehead goalie Alex Dupuis attempted to clear the puck, but Ridgeback forward James Woodcroft picked it up off a bounce and poked it over the goal line, giving Ontario Tech an early 1-0 lead.
Lakehead got even at 17:35 of the first period on a short-handed goal from sophomore forward Jake Carrick, converting on a goalmouth scramble after Mike Hammond brought the puck in on a two-on-one. The other assist went to Mike Quesnele.
Less than a minute later, a streaking Riley McIntosh scored an unassisted goal when he buried a hard wrister past Ridgeback goalie Bryce OHagan, putting Lakehead in front 2-1.
Lakehead increased its lead to 3-1 at 9:22 of the second period off a nice one-timer from Adam Sergerie on some nice work down low from his line. The assists on the goal went to Hammond and Matt Caria.
Freshman Mike MacDonald added to the lead with a nice short-handed goal, Lakeheads second shorty of the game, when he outwaited OHagan and put a nice backhand in the net to give the Wolves the 4-1 lead. Kalvin Sagert and Mitch Fillman were credited with the assists.
Trevor Gamache scored the Wolves third short-handed goal of the night at 4:33 of the third period, putting a laser wrist shot past OHagan to give Lakehead a commanding 5-1 lead over the Ridgebacks.
Matt Caria added to that lead on the power-play at 6:26 of the third, making it 6-1 in favor of the home side. Assists went to Chris de la Lande and Sergerie.
The Ridgebacks added two late goals in the final ten seconds of the game, but it was too little, too late for Ontario Tech.
The Molson 3 Stars of the game were:
1.Mike MacDonald, Lakehead
2.Adam Sergerie, Lakehead
3.Jake Carrick, Lakehead
The win improves the Wolves OUA record to 13-7-2, and moves them into a tie with Guelph for third place in the nine-team West Division.
Lakehead travels to Windsor next weekend for a pair of games with the second-place Lancers, who currently sit just two points ahead of the Thunderwolves.