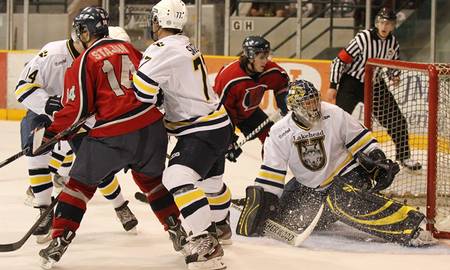 Fri Nov 16, 2012
A strong third period keyed Lakeheads 5-2 win over the Brock Badgers at the Seymour Hannah Centre in St. Catharines, ON Friday night.

Brock got on the board early when Anthony Geldart fired the puck past Lakehead netminder Alex Dupuis just 44 seconds into the game, but Trevor Gamache replied for the Wolves after being set up by Thomas Frazee of the 4:11 mark of the opening frame. That was all the scoring in the first period, one in which the Badgers outshot the Wolves 13-7.

Both Dupuis and Brock goalie Dalton McGrath couldnt be beaten in the scoreless second period, and both teams headed to their dressing rooms tied at 1-1 heading into the third. Lakehead outshot Brock 13-12 in the middle stanza.

In the final period, Lakeheads offence began to click and it was the last 20 minutes that sealed the victory for the Wolves. Mike McDonald and Mike Hammond fed Riley McIntosh at 6:30 of the third to give Lakehead at 2-1 lead. Less than a minute later, Andrew Wilkins converted on some nice passing from Gamache and Frazee to put the Thunderwolves ahead 3-1, and when Hammond recorded a short-handed marker from Dupuis and Mike Quesnele at 14:00, Lakehead was comfortably in front by a 4-1 margin.

Brocks C.J. Dickson scored a minute later to narrow the gap to 4-2, but Luke Judsons powerplay goal from Hammond and MacDonald at 18:10 rounded out the scoring to give the Thunderwolves a 5-2 win.

Shots on goal were 11 each in the third period, but favored Brock 36-31 for the game.

The win improves Lakehead OUA record to 8-3-2 (10-5-2 overall) and keeps the Wolves tied for first place in the OUA West Division with the Windsor Lancers.

The Thunderwolves will travel to Kitchener on Saturday, where they will take on the Laurier Golden Hawks to finish off the weekend road trip.