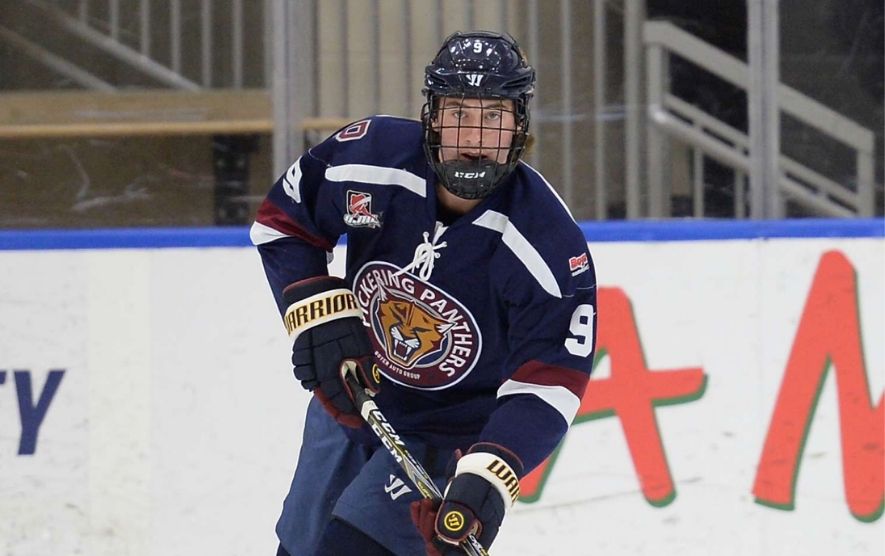 Wed Jul 08, 2020
Lakehead Thunderwolves Hockey announces the addition of Kevin Stiles from Ajax, Ontario.
Kevin Stiles, a left shot forward, played the 2019-2020 season with the Pickering Panthers of the OJHL, who finished the regular season with the best record in the north division.
"I am extremely excited to attend Lakehead University and play for the men's varsity hockey team. I'd like to thank Rob Pearson, David Demarinis and the entire Pickering Panthers organization for putting me in a spot to succeed over the past two seasons. I can't wait to get started with the Thunderwolves!" said Stiles.
Stiles finished the 2019-2020 season with 51 points in 53 games, while producing 4 points in the team's first round victorious 4 game sweep before the playoffs were unexpectedly cut short.
Thunderwolves Head Coach Andrew Wilkins looks forward to what Stiles will bring to Lakehead University, saying that "Watching Kevin throughout this past season, we were very impressed with his 2-way game, strong skating ability and the overall consistency with his game as he was used in all situations. Kevin has a good IQ for the game and is habitually in good space when competing and supporting the puck."
He goes on to say that "After a strong season we believe that Kevin's best hockey is in front of him and we are excited about the strong attributes he adds to our line up. We look forward to his growth and development with our program."
Rob Pearson, Head Coach of the Pickering Panthers commented on Stiles joining the Thunderwolves, saying that "Kevin was a great leader on and off the ice. He led by example, his smart work ethic on the ice was a coach's dream to have. I've always said I would love to have eighteen Kevin Stiles on my team."