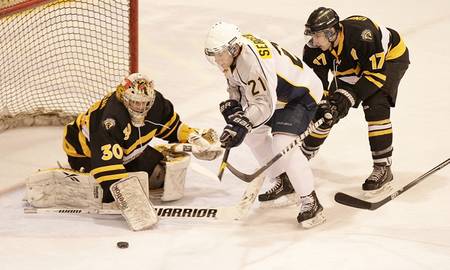 Fri Feb 01, 2013
The Lakehead Thunderwolves beat the Waterloo Warriors 4-3 in a shootout on Friday night in front of 3386 fans at the Fort William Gardens in Thunder Bay, ON.
Trevor Gamache got things rolling for Lakehead at 6:07 of the first period, after Luke Judson couldnt get a handle on the puck in the slot. Luckily the puck bounced right onto Gamaches stick, and he fired a shot up and over Waterloo goaltender Keaton Hartigan.
The Warriors evened things up at 10:47 after some sustained pressure in the Wolves end when Kain Allicock fired a shot past Alex Dupuis to knot things up at 1-1.
The Warriors pulled ahead 2-1 early in the second period when Allicocks shot tipped off Wolves defenseman Riley McIntoshs stick and past Dupuis.
Mike Hammond has a glorious chance to tie things up a couple of minutes later on a backhand that had Hartigan beat, but he couldnt beat the post.
Adam Sergerie evened things up for the home side after a nice rush from defenseman Mike Quesnele set him up for the score.
Kirt Hill put Waterloo in front shortly after that on a one-timer that eluded Dupuis.
In the third period, Lakehead evened the score at 3-3 on the power play when Hammond tipped a Mitch Fillman point-shot past Hartigan. Sergerie was credited with the second assist.
Overtime solved nothing, forcing a shootout which usually bodes well for Lakehead - and tonight was no exception. After five rounds the score was still tied, but in the sixth round Dupuis stopped Waterloos Jarred Parent and Sergerie slipped the puck between Hartigans pads to secure the 4-3 shootout victory for the Wolves.
The MolsonThree Stars of the game were:
1.Adam Sergerie, Lakehead
2.Alex Dupuis, Lakehead
3.Kain Allicock, Waterloo
The win moves Lakehead into a third-place tied with Guelph in the OUA West Division, and just one point behind second-place Windsor.
Both teams are back at it Saturday night at the Fort William Gardens.