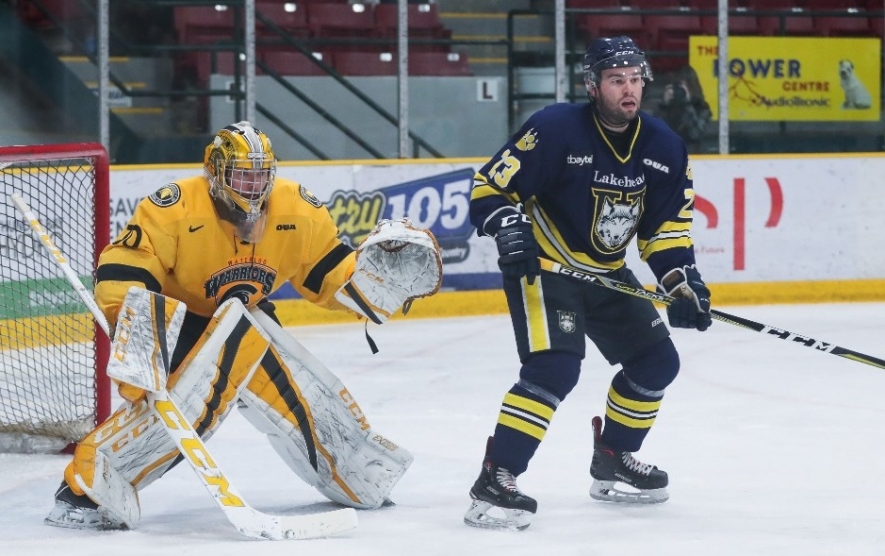 Thu Nov 14, 2019
The Lakehead Thunderwolves scored two more power-play goals in their 6-5 overtime loss to the Waterloo Warriors Thursday night in Waterloo, ON.
Thunderwolves senior Jordan Larson started the scoring when he buried a rebound halfway through the first period to give Lakehead the lead.
Waterloo forward Connor Cole scored the Warriors' first goal of the game late in the third and the two teams finished the first period tied at one.
The Warriors took the lead just three minutes into the second period when second-year forward Jack Scanlan scored his first goal of the night shorthanded. Just over five minutes later he scored his second of the night giving the Warriors a two-goal lead.
Just past the 11-minute mark, the Thunderwolves were given a 5-on-3 power play and Tomas Soustal ensured they capitalized with his first goal of the game.
Three minutes later the Warriors gained their two-goal lead back with their own power-play goal scored by Waterloo forward Alex Pawelczyk.
Less than a minute later Thunderwolves sophomore Josh Laframboise scored his first goal of the night, bringing the Thunderwolves one goal closer to tying the game.
And that's exactly what Soustal did with his second goal of the night scored less than a minute later.
By the end of the second period, the teams were once again tied 4-4.
The third period saw two more power-play goals. The first scored by Waterloo's Scanlan, giving him a hat trick.
The second was scored by the Thunderwolves Laframboise, a goal that would send the game into overtime.
Overtime wasn't any less eventful than the previous 60 minutes.
A minute and a half in Waterloo's Cam Nicoll was awarded a penalty shot after being taken down by Thunderwolves defensemen Caleb Boman.
Luckily for the Thunderwolves, goaltender Nic Renyard stood his ground, made the save and kept the game alive.
The Warriors ended the game when forward Keigan Goetz scored Waterloo's sixth goal of the night five minutes into overtime.
The Thunderwolves will be back in action again tomorrow night as they face off against the Ryerson Rams in Toronto with a 7:15 p.m. puck drop.