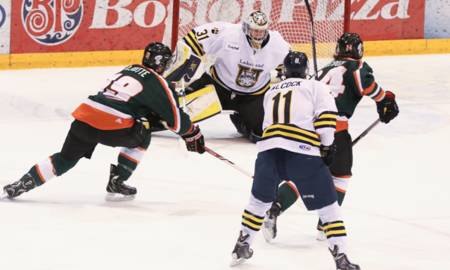 Fri Oct 16, 2015
The Lakehead Thunderwolves were edged 4-2 by the UQTR Patriotes in an exciting contest at Le Colisee in Three Rivers, Quebec on Friday night.
The Wolves and Patriotes exchanged power play goals in the opening period, with UQTR getting on the board first when Martin Lefebvre beat Lakehead goalie Jeff Bosch with a low wrister from the face-off circle at the 7:10 mark.
Lakehead even the score at 14:36 when Billy Jenkins completed a nice tic-tac-toe play from the edge of the crease after being set up by Justin Sefton and Jake Ringuette.
Shots on goal in the first period were 8-7 for the Patriotes.
The game opened up considerably in the second period with UQTR getting the best scoring chances, but Bosch held the Patriotes at bay until Guillaume Asselin scored on a two-on-one situation with under a minute remaining in the middle stanza.
UQTR outshot Lakehead 15-10 in the second.
The Patriotes extended their lead in the third period after Pierre-Maxime Poudriers wrist shot from the blue line took a funny bounce and handcuffed Bosch to put UQTR up 3-1.
Just over a minute later, E.J. Faust fed a streaking Cody Alcock who broke in on the right wing and fired the puck past Patriotes netminder Sebastien Auger to narrow the gap to 3-2.
The Wolves kept applying the pressure and Faust narrowly missed tying the game later in the period, but Tommy Girouxs empty netter with 17 seconds remaining sealed the deal for UQTR.
Shots on goal were 14-10 for Lakehead in the third period, but favored UQTR 33-31 for the game.
The two teams will square off again tomorrow beginning at 4:00 p.m.